Into The Woods
Music and Lyrics by Stephen Sondheim. Book by James Lapine. Dramatic Productions. Director Richard Block. Gungahlin College Theatre. Aug 28 – Sep 12, 2015
"Happily ever after, schmappily ever after" and "be careful what you wish for" are the messages of this light-hearted production of the classic musical Into the Woods. An excellent cast, colourful costuming, an imaginative set, a tight orchestra and a particularly maudlin looking papier mâché cow on wheels ever all add up to great fun.
The music is a strength of the production, a credit to musical director Damien Slingsby. The phrasing, pitch and timing were spot on. Philippa Murphy played Cinderella with a gorgeous silky soprano and a performance full of pathos. Grant Pegg's Baker had empathy and compassion, while as his wife, Veronica Thwaites-Brown allowed her longing for a child to blind her to the dodgy morality of her actions. It was a joy to watch young Pippin Carroll as Jack – he's grown up since I last saw him, as John Mortimer in Voyage Around my Father. Pippin hams up dim-witted Jack as part of a comic duet with the experienced and funny Debra Byrne as his mother, and poor old decrepit Milky White, his best friend and only cow.
Sian Harrington was hilarious playing the plucky, resourceful and somewhat glutinous Little Red Riding Hood. Kelly Roberts shines as the witch, playing with energy and depth, matching a glorious rich voice with a striking stage presence. Toni Lamond's cameo as the off-stage giant was a good addition, with the cast invoking the character with co-ordinated motions and well-timed reactions.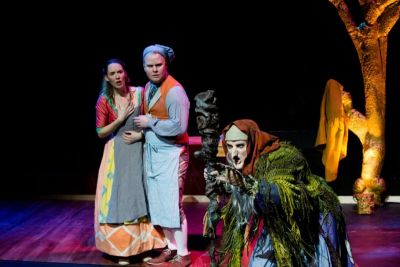 Given the huge number of characters that need to co-ordinate, a lot is going on at any one point that needs careful timing and this was close to flawless. Meanwhile the movement and dance seems a little underdeveloped, perhaps owing to time constraints. Which isn't to say that there aren't plenty of lively moments: Little Red Riding Hood's trademark skip, the witch's physicality, and interesting interweaving by characters in and out of trees, and the formal dance routines worked very well. First night nerves could have been behind a couple of missed lighting cues; this shouldn't be an ongoing issue as the team gains confidence. I have to make mention of the gorgeous costumes, which were bright, colourful and beautifully made.
The tone is light throughout. However, some off-screen deaths and the implication of infidelity may disturb children under fourteen, so use your discretion. Most teens will appreciate the humour.
Cathy Bannister
Photographer: Pete Stiles