Wudjang: Not the Past
By Stephen Page and Alana Valentine. Bangarra / Sydney Theatre Company / Sydney Festival. Roslyn Packer Theatre. January 17 – February 12, 2022, then Hobart and Adelaide.
Stephen Page's magnificent, largest ever and probably last production after decades as artistic director of Bangarra blends his choreography with more theatrical forms and collaborators than ever.
Page calls it a "contemporary ceremony"; Wudjang mixes opera and musical melodies and ditties, with live musicians, singers and actors working in both English and Stephen's ancestral dialect of Mununjali of Yugambeh country (south east Queensland). And seventeen remarkable dancers.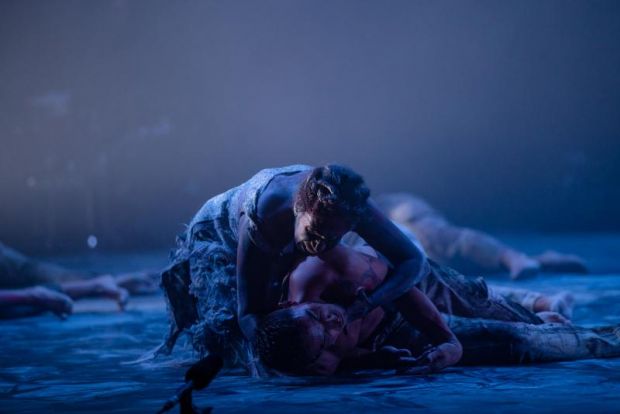 It's the story of a mother spirit unearthed during an ugly mining operation, who then retravels the past centuries to speak to the present. Veteran Bangarra performer Elma Kris is hypnotic as Wudjang and transcendent dancing with her beautifully expressive fellow spirit (Lillian Banks).
On Jacob Nash's open stage, littered by rocks and one huge slate shard, they voyage through scenes of settler arrival, conflicting systems and identity, an hilarious scene of dancing white sheep (and a black one nabbed and sheared), and then great horrors of rape, shootings and bodies epileptic with smallbox.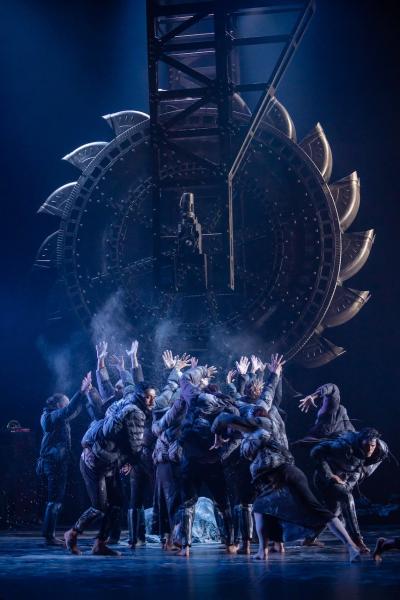 The mostly male ensemble are artful and kinetic in each of these varied, highly emotional scenes, giving impact to Page's fine story-driving choreography. Dance fans may miss the full stage reach the Bangarra dancers usually hurdle – here they share the space with rocks, musicians and everyone else.
To enveloping music and songs composed by Steve Francis, under Alan John's music direction, there are powerful vocal thrills from Justin Smith playing settler roles, and indigenous singer Jess Hitchcock wanting to just move on from the past, and Elaine Crombie with her blues-style scream of revenge against men who rape.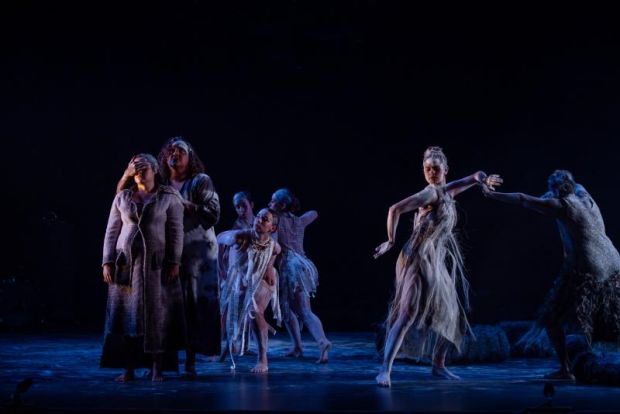 Dramaturg and co-writer with Page, Alana Valentine, gives clarity to this huge storytelling arc and thankfully we mostly hear the bilingual lyrics. Like most of the creatives here, Valentine has worked on Stephen's other highly applauded tellings of black/white historical narratives. Wudjang is his fourth such production – and the biggest. And while the threat of cliche and pantomime hovered close in all of them, Page yet again avoids it.
It's a long show, near 90 minutes, but still we leap too quickly into a reconciliation. But it's a glorious climax as Wudjang is properly buried and the wattle gold falls through Nick Schlieper's stunning lighting and across Jennifer Irwin's endlessly inventive costumes.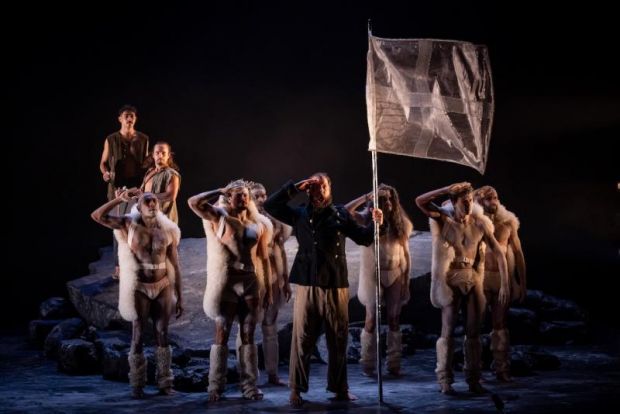 Wadjung: Not the Past is a co-production with the Sydney Theatre Company, staged at the Ros Packer Theatre, Walsh Bay, which then tours to Hobart and the Adelaide Festival.
Martin Portus
Photographer: Daniel Boud