Wudjang: Not The Past
Bangarra Dance Theatre. Adelaide Festival. The Festival Theatre, Adelaide. 15 to 18 March 2022
Setting aside some musical theatre productions, it is a rare thing to assemble singers, actors and contemporary dancers on stage in a dramatic, meaningful form that genuinely succeeds. Wudjang: Not The Past flawlessly integrates these elements in an ambitious and very personal work for choreographer/Artistic Director Stephen Page. It is also his last work for Bangarra as he prepares to hand over the directorial mantle to colleague Frances Rings. The work premiered at the Sydney Festival in January and has been greeted with standing ovations here in Adelaide.
As a reviewer, I acknowledge my white privilege and European heritage and certainly, to witness some of the scenes in Wudjang is confronting, sobering and inspiring of deep shame with regard to our colonist ancestors. As a performer and devotee of the Arts, I was delighted to be part of the appreciative audience immersed in this astonishing work - part opera, part theatre and ceremony, all contemporary dance. And as always, I am in awe of the way indigenous Australian movement pairs so beautifully with Contemporary dance in its grounded forms, footwork and floorwork, something Bangarra has explored and refined over many years.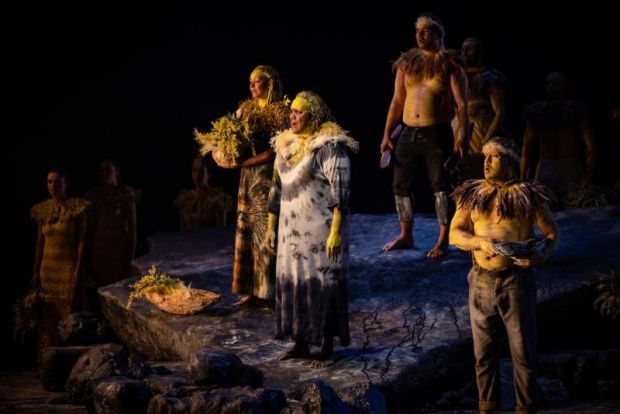 After a moving and meaningful welcome and introduction by Carl Telfer, lights came up on an imposing set design by Jacob Nash with a giant mining cog/wheel looming above the stage just across from a sloping, rocky outcrop. Alongside Steve Francis' menacing mechanical soundscape an ingenious interplay of flickering house lights merged with the foreboding dark hues on stage. The lighting design by Nick Schlieper continued to perfectly enhance the stage action as the narrative unfolded.
The Bangarra dancers are an exceptional ensemble, their passion and connection to this work alongside their technical prowess forming the unifying 'glue' that binds this production and its themes. Bravo all : Beau Dean Riley Smith, Rikki Mason, Rika Hamaguchi, Glory Tuohy-Daniell, Baden Hitchcock, Ryan Pearson, Lillian Banks, Bradley Smith, Courtney Radford, Kallum Goolagong, Gusta Mara, Kiarn Doyle, Emily Flannery, Maddison Paluch, Daniel Mateo, Janaya Lamb, Jesse Murray.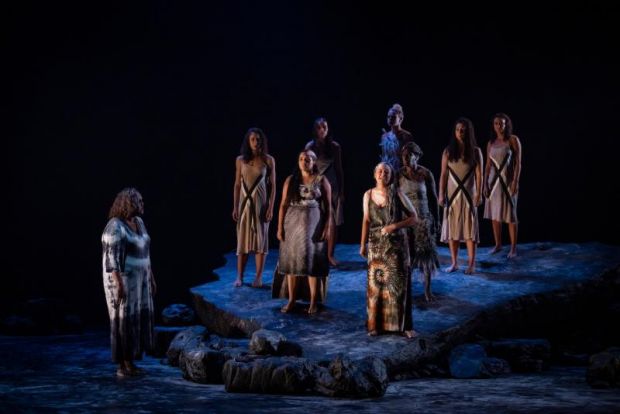 Soloists moving, acting and singing included Elaine Crombie (Yankunytjatjara, Warrigmay, South Sea Islander and German descended woman), Elma Kris (Thursday Island - Waiben), Kirk Page (Mununjali man with ancestry in Badu Island in the Torres Strait, Germany and Wales), Jess Hitchcock (Saibai Island in the Torres Straits and Papua New Guinea), Brendan Boney (Wiradjuri/Gamilaroi man), Tessa Nuku (Darkinjung Country) and Justin Smith. Onstage musicians Véronique Serret (also Associate Music Director) and Amaru Derwent contributed to the mystical atmosphere with their impassioned playing and dignified, reverential bearing.
The work of all these soloists was universally masterful and poignant, connected and sensitive, but two pairings stood out for me for their emotional depth and associated imagery. Elaine Crombie as the elder Maren beside Jess Hitchcock's Nanahng was significant and tender as the younger woman gradually learnt to embrace her culture and stories. A long-time Bangarra dancer, actor and associate, Elma Kris is Wudjang (mother) beside Lillian Banks as Gurai (wonder). Both are swathed in powdery whites and greys, at times a chalky substance misting from their bodies into the light as they move. The juxtaposition of the two ages here is truly inspiring as the women move together, support each other and reflect the generational connections our indigenous people value. Elaine Crombie also gives us one climactic moment that underscores female rage and enduring strength, particularly that of indigenous women, as they witness, experience and survive generations of abuse: "A rage like the sea will crush men who take / Women like me will destroy men who rape / Rage won't go away / We will kill you white snake / We will make you pay for your violence."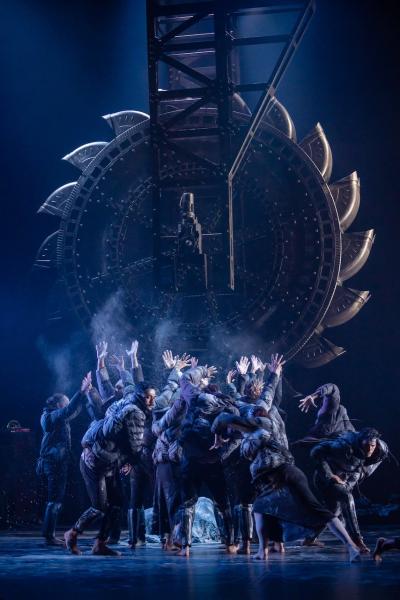 There are so many powerful tales and images woven into this narrative but the overall success is the seamless and exciting blend of movement, theatre, design and voice enabled by the impeccable talent of the creative team. Director, Choreographer & Co-Writer Stephen Page and Co-Writer/dramaturg Alana Valentine are experienced collaborators and Donna Page was the language consultant imbuing the songs and text with authenticity and tradition. Originally from Adelaide, Steve Francis is composer and sound designer and this is his 14th score for Bangarra. Costume Designer Jennifer Irwin works with earthy colour and texture and the symbolism of wattle leaves and flowers to bring the characters to life and unite stories and histories.
The songs so ably and powerfully delivered by soloists and cast are rich with imagery and story and sung both in Language and English. We are their daughters / We are their voices / We give them honour sings Tessa Nuku, surrounded by the women, voicing the abuse suffered by the indigenous women from colonial times… and onwards. Another song chronicles the 'price' on an indigenous life: "They give five pounds for every adult / Two pounds for every child". The strength of the songs is heightened further by the ensemble and soloist choreography that accompanies each one, most heartbreakingly in the song "Nerang River Massacre" as one man hauls the inert bodies of his kin and places them atop a tangled pile of flesh, observed and mourned by the spirits Wudjang and Gurai.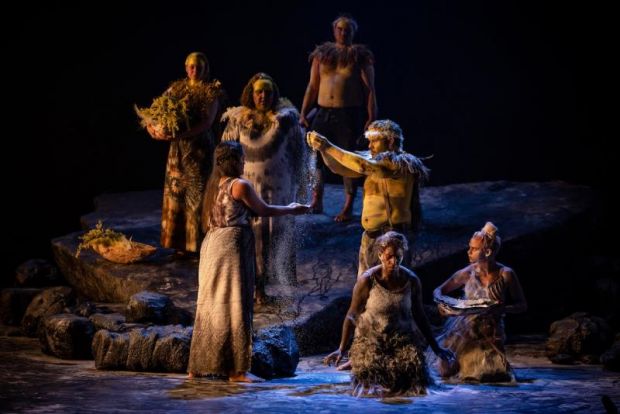 This is a world-class production of import and great artistry and my arrangement of words and impressions cannot do it justice. The undeniable fact that this is indeed still 'not the past' will penetrate into the psyche of any audience, in any part of our world. However much it is an indigenous Australian tale where past and present are always inextricably linked, there are universal themes to ponder and absorb as well.
Lisa Lanzi
Photographer: Daniel Boud