Wuthering Heights
By Emily Brontë, adapted by shake & stir. shake & stir and QPAC production. Riverside Theatre Parramatta. Mar 22 & 23, 2016, and touring.
shake and stircontinues its acclaimed 'classic' series with this bleak but beautifully staged adaptation of Emily Brontë's very grim story of love and loveless-ness set on the windy Yorkshire moors. Gloom is the dominant mood of the novel and this production does not try to soften the cruelty and jealousy that drove Bronte's eccentric characters.
Josh McIntosh creates the mood with a set, that, conjures a draughty, grey and depressing country manor. High pillars up-stage are sheathed with long, diaphanous scrim that billows in frightening storms. Similar high structures each side of the stage are shelved and hold various objets d'art. The base of the two down stage pillars each house a fireplace and a small serving table. This mirroring is especially effective in the final scenes as flames flicker in the fireplaces of two households that have been at war with each other for such a long time.
Jason Glenwright (lighting) and Guy Webster (sound) combine to intensify the theatricality of the production with unnerving effects that flash and vibrate – and, momentarily, fix chilling images in bright, white light. On screens that stretch high behind the shivery scrim, filmed sequences unveil large close ups of the characters, heightening the anguish or anger … or gravity … of the moment.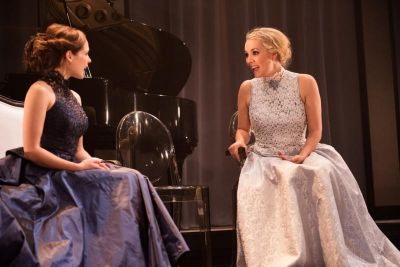 Brontë's characters reflect the lonely, inhospitable wildness of the moors and Nick Skubij (adaptor, director, performer) has reached inside the original prose to extract the essence of each character and their tragedy and translated them into a tight, carefully crafted adaptation that also speaks a more contemporary message about domestic violence.
Like Brontë, Skubij tells the story through Nellie Dean – nurse, governess and housekeeper. Linden Wilkinson takes on this rather daunting role that sees her on stage for much of the production, often watching with concentrated misery as the pain and torment of the characters unfold. Wilkinson moves from confidential storyteller to deferential servant with consummate ease. As the tightly controlled figure weathering the tempestuousness of her employers, or a wispy figure hovering in the background waiting to pick up the pieces of their conflict, she is totally focused in every moment.
Ross Balbuziente plays the brooding, revenge-seeking Heathcliff, finding both the unruly anger and bitterness of the character as well as the agonizing depth of his passion. He moves from dirty urchin to arrogant tormentor with skillful ease – and gives the character's use of physical and emotional violence a sinister rather than heroic perspective.
Skubij has cleverly manipulated the script to allow actors to double in roles that accentuates how the conflicted characters affect those that come after them. For example, Skubij himself plays both the haughty but weak Hindley Earnshaw, and, later, his neglected, illiterate son, Hareton. He adeptly finds the differences – and the similarities – of both characters in convincing performances.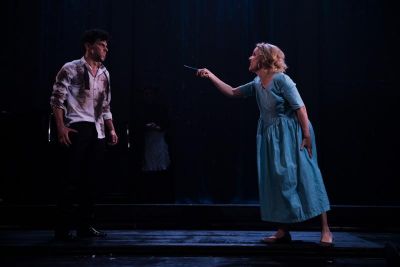 Tim Dashwood, as the stylish Edgar Linton, uses stiff stance and gesture and petulant reactions to depict, very successfully, the pompous frailty of this essentially weak character. Only in his relationship with Cathy – and his daughter – does he allow real emotion to overcome habitual restraint.
Gemma Willing plays both Catherine Earnshaw and Cathy Linton, once again juxtaposing the differences and similarities of the characters in childish exuberance, willful temper tantrums and passionate emotion that make both characters appealingly believable. Much literary 'history' and emotion surround this character and Skubij has realised this artfully in his dialogue and direction.
Nellie Lee takes on the triple roles of Frances Earnshaw, Isabella Linton and Linton Heathcliff. Once again the script accentuates the similarities of these characters – their weakness, their frailty and their suffering at the hands of fate – and Heathcliff. Lee plays all three with finesse and conviction.
This production has the all expected highlights of a shake and stir adaptation. It loses none on Brontë's brooding pessimism nor the brutality and bitter suffering of her characters. Rather it brings them into sharp, convincing, contemporary focus. What a pity it played here for such a very, very short season!
Carol Wimmer
Photographer: Dylan Evans