XANADU
Book by Douglas Carter Beane, Music and Lyrics by Jeff Lynne & John Farrar; Directed by Meg Day, Musical Director Nerissa Cavaliere, Choreographer Jessica Kuit. Presented by Ikigai Entertainment at Sutherland Arts Theatre. Feb 22 – Mar 5, 2023
In musical theatre timing is everything and whether it is by good luck or good management, Xanadu is perfectly timed with Mardi Gras, Sydney World Pride and even the State Funeral for our beloved Olivia Newton John taking place on the opening weekend of this 80s camp fest fantasy musical based on the cult movie starring Olivia and dance legend Gene Kelly.
Xanadu is the first production of this indi theatre company which strives to provide high quality performance opportunities in a supportive and inclusive environment for professionally trained and technical artists.
The set (Darren Hutchinson and Meg Day) made full use of the stage and in the main worked well with choreography and movement on and off stage. However, set changes and crew movements were distracting at times.
The cast, all graduates of various performance degree courses, showed a high level of skill and expertise in dance, song and portrayal – certainly as much as the production allowed. Xanadu is not strong on character development, focusing on creating a fantasy of fun and frolic as song after song from ELO's Jeff Lynne and Australian John Farrar brought back memories of the 80s, when life was easier and disco was king. Some of the sung harmonies were really lovely, showcasing some fine voices.
The choreography was fun, snappy and well executed despite the challenge of stairs and limited space, creating an atmosphere of gaiety and plenty of tongue in cheek humour. The costumes floated and flowed through each dance sequence, and with the exception of one sheer fabric used which revealed the underwear of one performer, everyone looked great and created a very retro look and feel.
Although it wasn't immediately obvious, after a somewhat off pace opening, the musical is clearly a spoof of the movie, which attracted mixed reviews back in its day. You could say it leaves itself wide open for a thorough razzing, and at times this cast nailed it with some great one liners, cheeky dance moves and side glances to the audience. Special mention made to Alexis Hutchinson as Euterpe, whose delivery of her monologue late in the show had the audience in hysterics.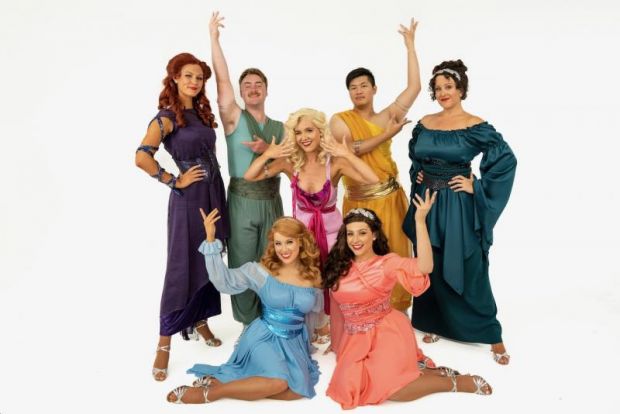 Things really fired up when Melpomene (Tanya Boyle) and Calliope (Sabrina Kirkham) belted out "Evil Woman" and we basically took it from there. Kurt Russo as Sonny offered all the charm and gullibility the role requires as he dreams of creating a Roller Disco. The arrival of Kira (Lacinda Fisk) inspires him to reach for the stars and achieve his goal with a little help from Danny (Alexander Morgan - who played his role larger than life and demonstrated a wonderful singing voice which came as a nice surprise). Fisk, channelled ONJ very well and was a delight to watch. I take my hat off to anyone who can do most of the show on roller skates, however, I would've liked her to put her foot to the pedal a little more often. Having said that this entrepreneurial dynamo has not only founded the company, she has overseen everything from auditions to costume design and social media.
As part of Ikigai's Mission Statement casting is not restricted by age, race, gender, etc. etc. and this was well demonstrated with the inclusion of Vincent Huynh (Terpsicore) and Louis Vinciguerra as Thalia, who took their places next to Kira's other sisters. Both performers brought energy, commitment, expertise and humour to their roles. I loved the glitter feature in Louis' beard and Vincent's entrance as a Centaur almost brought the house down. Carla Venezia as Erato, and Taylor van Veen danced superbly and completed a well brought together cast, deserving of the rapturous applause and standing O received at the end of the night.
The newly renovated Sutherland Arts Centre, Pavilion Theatre, is a great venue for local productions, and worthy of a visit for a great night out. I look forward to what Ikigai has to offer in the future.
Annette Snars