As You Like It
By William Shakespeare. Sydney Shakespeare Festival. Bicentennial Park, Glebe Foreshore. January 17 – February 24, 2013.
There are a lot of ways a person can spend their Friday nights in summer in Sydney. One that I highly recommend is to spend it watching a Shakespearian comedy: outdoors, atop a picnic blanket, champagne in hand.
I'll start off by admitting this: As You Like It is one play I had never had the pleasure of seeing before last weekend, which means I am unable to compare this production with others. Kudos to the company, therefore, for producing a performance that was clear and relatively easy (as easy as Shakespeare allows) to follow, despite my lack of prior knowledge.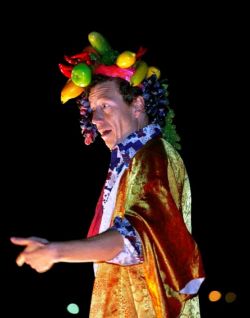 However, there were a moment or two when I found myself lost. This probably had something to do with the costuming decisions - Orlando in a suit- alright, so it's a modern interpretation... but then again, Rosalind and Celia's full-length dresses and elbow-length white, elegant gloves?? Perhaps this could have been forgiven had all sense of time and place in the show not been thrown out the window when Touchstone strutted onto the stage in flares circa 1970. The simple set offered no clues as to the correlation between the costuming of each character. Nor were there hints of when and where things were taking place.
In the end it didn't matter because the performers were brilliant. Emily Elise (Rosalind) in particular stood out. Though not "subtle" or "silent" (as she is described), her demanding presence on the stage kept my attention the whole way. Jacob Thomas (Orlando) played a strong and constant character as well. The two of them emotionally drove the show, but I can't for a moment ignore the comical support of the remaining cast- and have to acknowledge in particular the compelling natures of John Michael Burdon, Roger Adam Smith, and Caitlin Maruno. Before I arrived at the show, I was pre-warned of some last minute cast alterations: though acting and directing together is "not normally a decision" Julie Baz might have made, she, with the rest of her cast, did a brilliant job.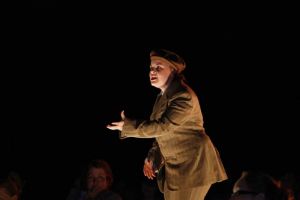 To be expected in such an ambient venue, there were certainly distractions: planes, a police chase along Anzac Bridge; the odd 4-letter blooper dropped by people walking by: even a poodle who spent a good minute of the play yapping at the security guy. I, like anyone else I imagine, soak this up as being part of the atmosphere, much like it would have been in the ampitheatres of old (minus the planes and police cars). A reminder to certain cast members, however, that, given the venue, voice projection is fundamental to the audience's engagement with the performance. Sadly the famous "All the world's a stage / and all the men and women merely players", spoken by Dominic McDonald (Jaques), went unheard.
My final word? As You Like It is a show i'll go out of my way to see again. For the mean time, however, i'll enjoy the same company and cast's production of "Much Ado About Nothing" this weekend.
Sally Alrich-Smythe
Images (from top): Caitlin Maruno and John Burdon; Dominic McDonald & Emily Elise.