As You Like It
By William Shakespeare. Melbourne Shakespeare Company. Directed by Jennifer Sarah Dean. Central Park, Malvern - 7-15 March, 2020, then Fairfield Ampitheatre, March 21 & 22.
This wonderful performance brings the magical aspects of the play to life in a vibrant and animated manner. This company is renowned for exploiting the challenges of outdoor performances and turning them to their advantage. The performance space is well-defined, but the company does not hesitate to take advantage of the expanse of the park to allow small details to be included in the performance. Watching characters in the distance as they approach the stage area adds to the overall attention to detail exhibited in this production.
The set and costume design give both locations a magical realism which blends in perfectly with the park greenery. The court of Dame Frederick (Amanda McKay) and the Forest of Melbourne each have a distinct and cohesive look that defines these contrasting environments. This provides a perfect frame for the delightful and energetic performances. Rosalind (Annabelle Tudor) and Celia (Joanna Halliday) are engaging and captivating in their roles. Orlando (Jackson Head) is portrayed as innocent and charming and while Oliver (Daniel R Nixon) is given a sinister streak. The entire cast provide strong performances in all their roles and this consistency is one of the many strong points of the production. The presence of the iconic actor, Don Bridges (Corin), as well as regular actors and newcomers reflects the fantastic range and depth of talent in the show. The inclusion of the excellent singing and dancing adds to the vibrancy of the performance, and the choice of songs, such as "Come On Eileen" by Dexy's Midnight Runners, highlights the inventiveness and playfulness that characterises the production.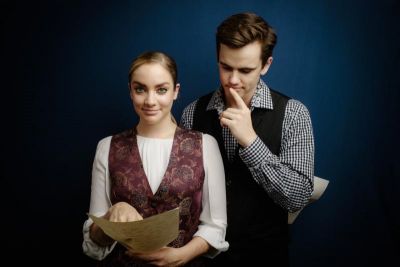 The clever and thoughtful staging of scenes is often ingenious and brings the text and the action to life beautifully. Orlando's wrestling contest with Silvius (Henry O'Brien) is made exciting and extremely humorous which sets the tone for all the action in the play. Each line is savoured and delivered with passion and emotional depth. This produces great clarity to the complex web of romancing that occurs in the forest and the manner in which the various couples are love stricken and come together. The show provides a great opportunity to enjoy Shakespeare's play in a fun, family friendly atmosphere that is enticing and enthralling.
Patricia Di Risio