As You Like It
By William Shakespeare. Melbourne Theatre Company. Southbank Theatre, the Sumner. 13 November – 18 December 2021
Melbourne Theatre Company bursts back from lockdown hiatus with this spectacular, star cast, high energy, visually sumptuous version of one of Shakespeare's funniest and yet most profound plays. There are lively songs that bridge contemporary and 'Elizabethan' modes from Kate Miller-Heidke and Keir Nuttall. The on stage, costumed musicians all play supporting roles with seemingly effortless transitions – and make up a fine recreation of Shakespeare's strolling players. Alicia Clements' costumes are resplendent (black and gold for the bad guys, beige, pink and fustian for the good), and the reveal of her Forest of Arden set, with its flowers, vines, overgrown ruins, and soft, grassy slopes, itself drew a round of applause.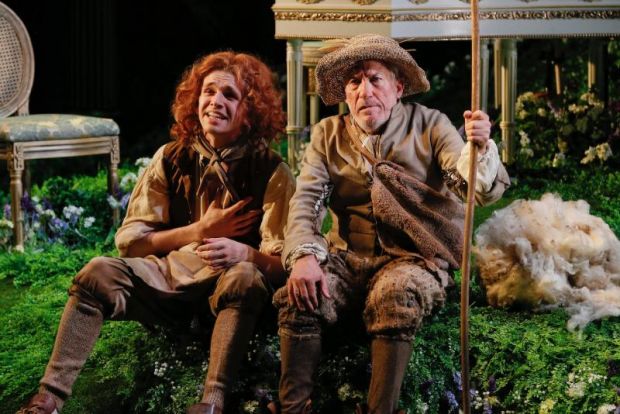 The plot of As You Like It is ridiculous – and it requires quite a spate of exposition to set it up. But it's there, a naked contrivance, to get the characters into the forest and keep them there – where Shakespeare can show us transformations wrought by Nature, and varieties of love in four interwoven stories.
There is no doubt that this production is fun. It was met almost with relief. It is live, it is spectacle, and it has an exceptionally skilled cast. At the interval and after the show, people were heard to remark that this 'is just what we needed', and the sheer excess of costume and set design gave people great pleasure. The text has had a tough edit (not that that's so terrible), I guess partly to make room for the songs, which are pleasant enough, even if there are too many of them, and even if they keep holding up the story.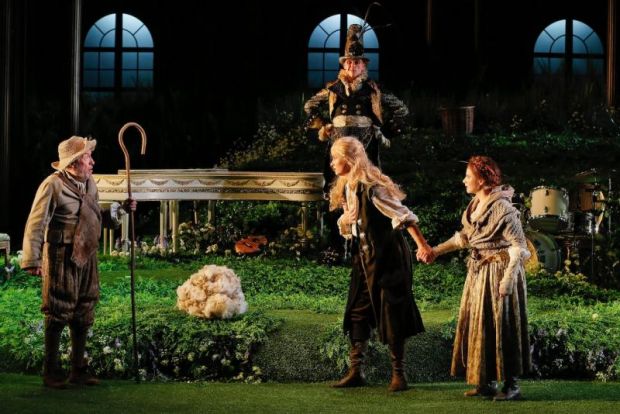 Not all the cast, it's true, are capable of the Shakespearean dialogue – much dialogue is a bit too 'trippingly on the tongue' – but, unfortunately, that is rather in keeping with director Simon Phillips' approach to the production. The famous speech – 'All the world's a stage…' – from Jacques (Tim Walter) is here – and interestingly there is a pause in the headlong rush for us and the cast to listen to it. Overall, the near breathless pace, and the relentless pursuit of 'funny' and 'fun' rather undermines substance and creates a barrier to emotional engagement with the characters. It also muddies some of Shakespeare's best verbal humour.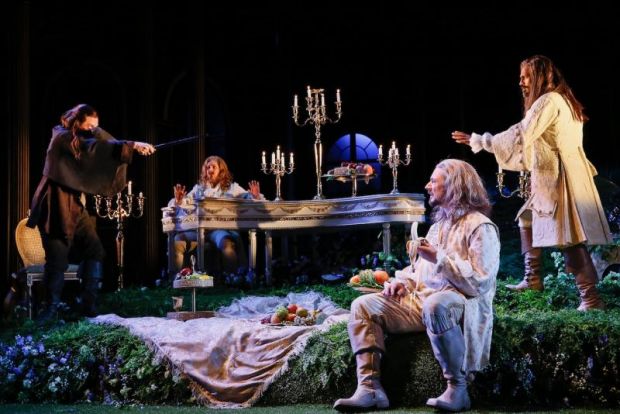 Daniel Frederiksen, as Touchstone, however, gets it just right, as do Natalie Abbott as a perfect Phebe, Laurence Boxhall as a touching Silvio, and of course, Richard Piper, taking his time and getting full value from every word, as the old retainer Adam and the shepherd Corin. James MacKay is endearing and funny as our butch but tongue-tied hero, Orlando, and Chris Ryan makes Oliver's conversion from bad brother to good plausible and touching.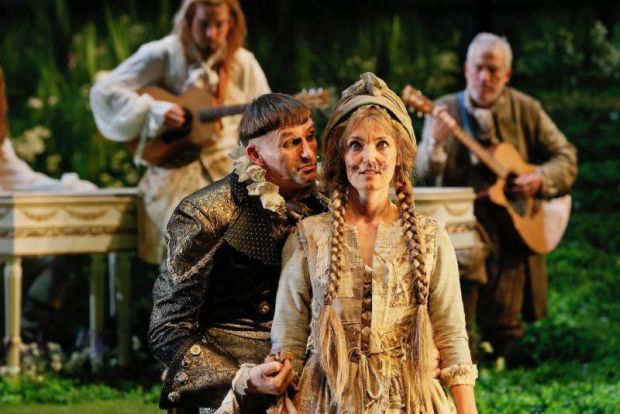 Rosalind is my favourite character in all Shakespeare, but such are the choices in this production that what makes her that for me is obscured under the relentless pace and comedy at all costs. In the forest, disguised as a young man, the character Rosalind transforms too; she goes from naïve girl to strong woman; she learns wisdom, insight, confidence, and courage, and is thus able to transform the lives of others. Here, that process feels rushed, her advice and her testing of Orlando bullying and a bit smartie-pants. Christie Whelan Browne should be the ideal Rosalind: she has the charisma, the authority, the comedic skills – and the height – and the ability to give her Rosalind more layers and nuance.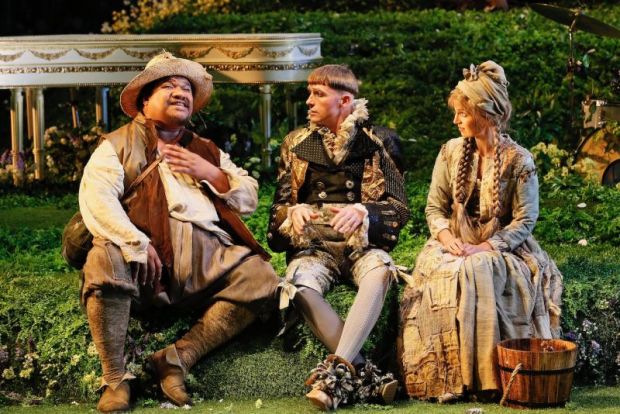 I can't help remembering another production of As You Like It, back in 2014. A no budget, no frills production performed in a garage off a lane in Brunswick. The 'stage' was the concrete floor; the room was cold, and the plastic chairs were hard. The music was a tambour and mouth harp. And yet, via Shakespeare's words and a sensitivity to them, in that bare-bones production, we went into the forest, believed the magic, and were moved by the comedy.
At the end of this MTC production, given sequences of delight, the energy, the glamour, and sheer hard work of the cast, I expected a standing ovation. But the response, despite 'this is just what we needed' was curiously subdued. Loyal fans even had to keep the applause going for a second curtain call. People said they loved it and they did – theatre is back! - but perhaps because they really, really wanted to love it – and that will certainly continue through the show's run. But was it as if we'd eaten the éclair, and it was delicious, but maybe we wanted more? Yes, that's tough on the cast who all work so hard, but in the end, it's about the play, isn't it?
Michael Brindley
Photographer: Jeff Busby.