Young Bodies/Somebody's
By Miranda Michalowski. Directed by Jo Bradley. Flightpath Theatre, Sydney. 19-28 May, 2022
The 'young bodies' in this notable one-act play by Miranda Michalowski belong to sisters June and Anna. June, 19, is trying madly (and hopelessly) to join her university swimming team, while Anna, 21, spends her time dancing and flirting with useless men. This is the moment when their mother, Dawn, says it's time for them both to leave home because she wants her new boyfriend to move in.
On a setting consisting of multiple packing cases and boxes, designed by Hannah Yardley, the girls attempt to make sense of their shocking situation. June (Lulu Quirk) is obviously out of competitive swimming condition, while Anna (Samantha Lush) is off her head dancing and flirting with every available man. Their mother (Erica Nelson) is no help at all and is probably heading for a disaster in her relationship with the unseen Todd.
All this is neatly outlined by Michalowski as the sisters prepare to move out of their home, bickering and brawling over what they should bring, for instance, boxes of books like The Very Hungry Caterpillar.
Anna secretly goes to June's swim meet and witnesses for herself the complete squashing of her sister's hopes. Samantha Lush plays Anna well, both inside and outside the grip of sisterly love.
Lulu Quirk's passionate 'I just have to be good at something!' rings true; and Samantha Lush's regularly ruined plans for a night with Todd are exactly as expected.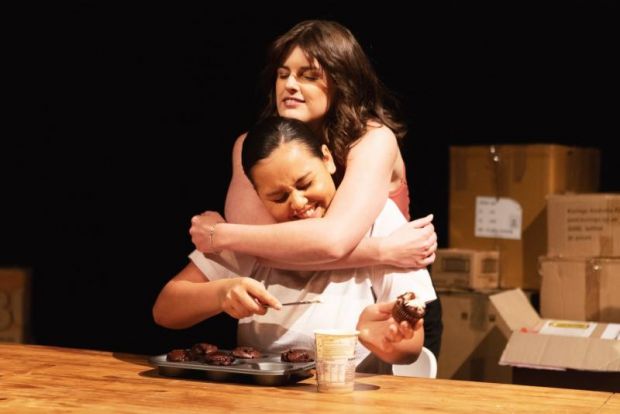 There are apt sounds from designer Daniel Herton and the effective lighting is by Capri Harris. Events are directed with assurance and passion by Jo Bradley.
Expect to hear much more from young writer Miranda Michalowski.
Frank Hatherley
Photographer: Becky Matthews