You've Got Mail
By Ang Collins. Sotto Theatre Company. Fringe World. Directed by Sarah Hadley. The Studio, The Blue Room, James St, Perth Cultural Centre, WA. Feb 11-15, 2020
We have reached a time where a story about the early days of the internet is definitely a "period piece" and is decidedly and quaintly retro. Sotto Theatre Company's You've Got Mail, which is tribute to the 1998 film of the same time, is a tongue in cheek look at the film, and at the time.
Campy, laden with familiar tropes and funny, You've Got Mail possibly plays better if you are familiar with the film, but this 'rom-com goes wild' pays homage to the genre, so should have wider appeal. We meet a couple of characters called "Meg Ryan" and "Tom Hanks" who are played with lovely teamwork and bad wigs by Eloise Snape and Chris Ratcliffe. Meg Ryan (almost always referred to by her full name) attempts to find companionship (and cyber sex) on the internet, while Tom Hanks attempts to win Meg Ryan's heart while destroying her livelihood.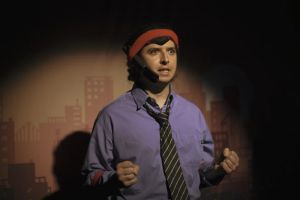 A highlight is the voice of AOL and The Internet, played with sophistication by Sophia Campion - a wonderful conduit performance and a lovely idea.
Emma White and Nick Fry's set has an impressive skyline backdrop and pays homage to early computer connections as it surrounds the connections made in the show. Clare Hennessy's sound design is well researched and a bit of a time flip for those of us around the same age as the real Meg and Tom.
An easy to watch and entertaining little comedy.
Kimberley Shaw