Zanna, Don't! A musical fairytale.
Book, music and lyrics by Tim Acito. Additional music and lyrics by Alexander Dinelaris. Shire Music Theatre. Sutherland Memorial School of Arts. February 8 – 17, 2013.
Zanna, Don't! A musical fairytale. Sounds a bit like a Xanadu send-up, doesn't it? Actually, it's more like a gay Grease / High School Musical / Cinderella hybrid send-up, with heaps of heart. And it's a hoot!
Shire Music Theatre's reputation as a boutique community music theatre company has been growing over recent years, and this Off-Broadway musical is yet another engaging small-scale ensemble production to enhance that reputation.
The story is set at Heartsville High School, your (almost) typical American High School, but in a parallel universe where everyone is gay, until suddenly forbidden love (heterosexual) rears its head. You'll have to Google for more plot detail, but there's a fun twist, lots of sly little references and a touching message of acceptance.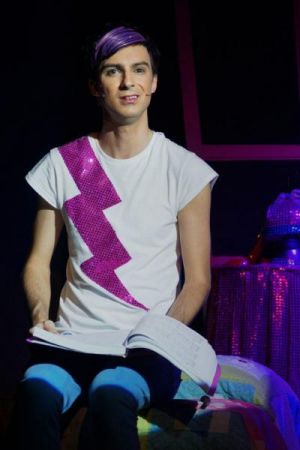 Director / Set Designer Chae Rogan has created a smartly paced, energetic production, using minimal sets and props which allow the show to move fluidly between scenes. Choreographer Craig Nhobbs has created bright, tongue-in-cheek choreography and Andrew Howie's band provides a lively rock accompaniment, though occasionally the balance between band and vocals is a little tenuous (though a huge improvement on my last experience at this venue).
In the interest of a quick turnaround for this mid-season review I'll skip praise of individual performances, because this hilarious little show is blessed with an excellent well-balanced ensemble cast of twelve. The singing ranges from very good to outstanding, the dancing from excellent to very credibly faked, but it was the acting which really impressed. The send-up story, situations and characters are utterly and consistently silly, but the cast capably maintain the characterisation and belief which are so vital for this sort of piece to work and really amuse and entertain an audience.
New technology - moving lights – displayed their limitations last night (or exposed the human factor), with some uneven and half-shadowy spotlighting of performers. Was it singers slightly off their mark or late cueing? I can't say.
Such minor matters won't stop anyone enjoying this zany little romp. Do go and see Zanna, Don't!
Neil Litchfield