Disney's Beauty and the Beast
Music by Alan Menken. Lyrics by Howard Ashman and Tim Rice. Book by Linda Woolverton. The Reddam House High School. Directed by Dean Hattingh. NIDA Parade Theatre. March 24 and 25, 2021
Beauty and the Beast is a musical where you cannot shirk on the set or costumes, and this performance was a feast for the eyes from beginning to end.
Sitting in NIDA's Parade Theatre watching this production, you'd be forgiven for thinking that one of Sydney's best community theatre companies was treading the boards, not a high school.
The costumes, set and props (hired and custom built) vividly brought to life the world of the Beast's castle, which culminates in the extravaganza "Be Our Guest".
There were also a few technical surprises, including pyrotechnics and a wood chopping contraption which sliced a log with the push of a lever.
The orchestra was exceptionally crisp and indeed in their ranks were professional musicians, teachers, alumni and current students.
On the stage, students relished the opportunity to perform in such a beautiful environment. The musical was scheduled to be performed twelve months ago – so the cast and particularly the choreography was well polished.
In the role of the Beast, Louis Fontaine was equipped with a mature stage presence and some smooth baritone vibrato. Kate Aruman was sweet as Belle.
Gabriel Jones was amusing in his portrayal of the vain villain Gaston. There were also strong performances from Mrs Potts (Nicole Geller), Babette (Ella Slot) and the impressive Lili Ogrin as Madame de la Grande Bouche.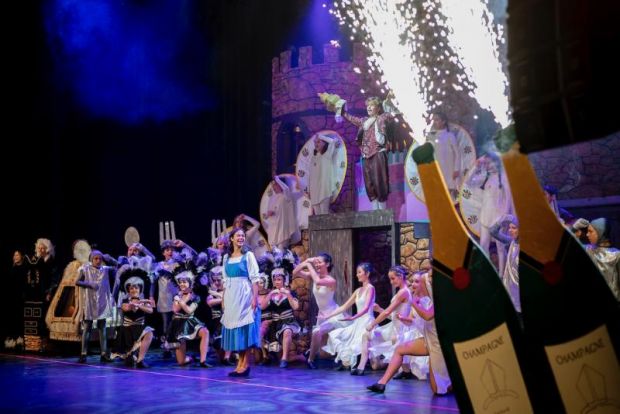 However, stealing the show with their wit and panache were Noam Olovitz as the candelabra Lumiere and his offsider Daniel Wesek as Cogsworth.
It is pleasing to see a school which has a reputation for high academic achievement putting so much effort into their showcase performing arts event – which has become a much looked forward to event, for students and their families.
David Spicer