Disney's The Little Mermaid
Music by Alan Menken, Lyrics by Howard Ashman and Glenn Slater, Book by Doug Wright. Directed by Madelaine Jones, Musical direction by Tammy Van Der Nest. Lake Joondalup Baptist College, Performing Arts Centre, WA. Sep 1-5, 2020.
Lake Joondalup Baptist College presents this Covid delayed production to enthusiastic, responsibly distanced audiences. A huge production, with an impressive social conscience, it is a delight to watch.
This production features over 100 secondary school performers, 55 primary school performers (who sweetly take their curtain call at interval, so that they can go home), 25 dancers and a student band. Lots of dancing in the aisles, and oodles of bubbles that float from the ceiling into the audience, mean that the audience feel part of this big, bright production despite the distancing requirements.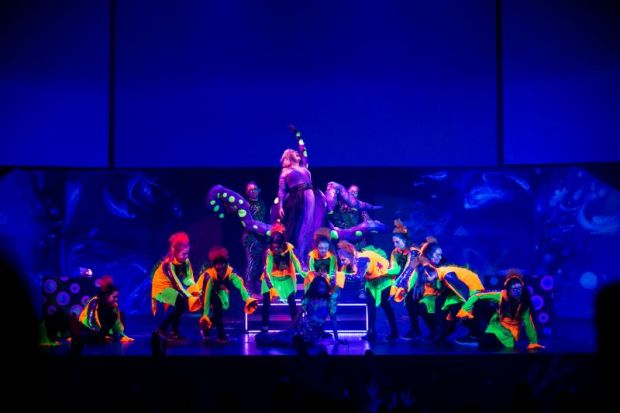 In addition to caring for its audience, this production makes a conscious environmental stand. The simple set is brightened with some outstanding projections, some of which highlight the effect of human debris on the oceans. Caring for the environment was also part of the production process. While recycled costumes are not unusual (80% of the material in costumes in this production was recycled) they still look impressive due to the excellent work of designer Shondra Driesen and her team. Two of the most unusual recycling decisions were using hard plastic packaging strips as boning, and rescuing post-operative neck pillows as stuffing for Ursula's tentacles.
Most of the principal roles and the Primary Ensemble are double cast. I saw "Aqua" cast, with Bella Freeman in the title role. "Purple Cast" is led by Maha Arasan.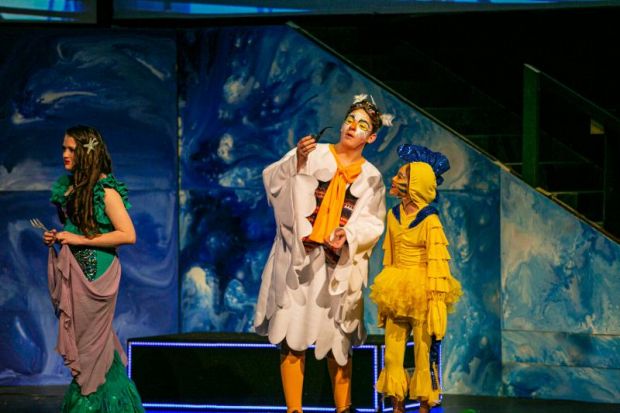 Bella Freeman is a captivating central character, owning the role of this determined young mermaid, in a beautifully sung, expertly acted performance. She bounces nicely off best friend Flounder, a cute as a button portrayal by Ella Raynor, and clashes well with protector Sebastian, played by her real-life older sister Sienna Freeman. Sienna's Sebastian is decidedly feminine and maternal, looking fabulous in a red calypso frock, and giving a unique and effective interpretation (I assume her alternate who is male, plays the role differently). Kooky friend Scuttle is played with gusto by Dominik Godwich.
Disney villains are often fabulous, and Bellise Driesen makes the most of the evil Ursula - she was well supported by Stephanie Mawdesley and Paige McKenzie as Flotsum and Jetsam - great baddies.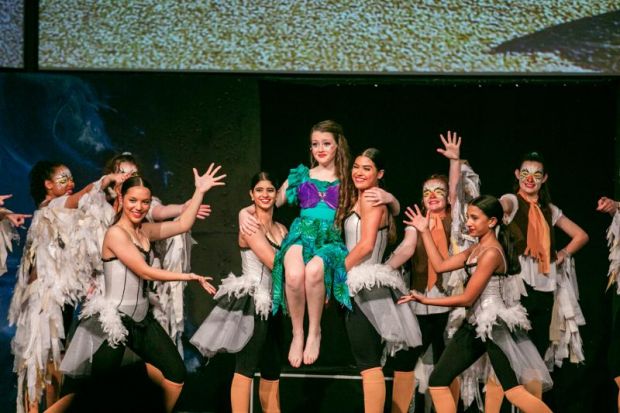 Jared Paul is charming as Prince Eric, nicely supported by Ethan Battle who gives depth to his guardian Grimsby. Jake Battle makes the most of limited stage time as Chef Louis, in a high energy, very comedic performance.
King Triton is a difficult role for a young person, but Joshua Bryden has worked hard to capture his maturity and paternal dilemma. His beautiful daughters are a terrific team, with individual personalities shining through, from Elli Kennard, Ellie Mazidi, Michaela Roesch, Lilliana Benger, Lily Baker and Venetia Edwards.
Abbey Mansell (Leeward), Brock Klompmaker (Windward) and Benjamin Oomen (Pilot) complete the Purple principal cast with solid performances.
A school production performed with professional attitude, wonderful ethics and great joy, Lake Joondalup Baptist College's The Little Mermaid was a great boost in difficult times. Well done to all involved.
Kimberley Shaw