Fiddler on the Roof
By Joseph Stein, Jerry Bock and Sheldon Harnick. Perth College. Directed by Tyler Jones. Judith Cottier Theatre, Perth College, Mt Lawley WA. Mar 18-20, 2021
Perth College's production of Fiddler on the Roof is a visual and audio feast, a vibrant production that would please any audience and a wonderful celebration of community and life.
Directed with warmth and precision by guest director Tyler Jones, it has a wonderful sense of teamwork and group ownership.
While Fiddler on the Roof, with its iconic male lead, seems an unlikely choice for a girls' school, there are many chances for the ladies to shine in this show, and they grab the opportunity.
Damon Blakely is excellent as Tevye, bringing vocal and performance maturity and giving Tevye depth. He is beautifully matched with Sarah Gannon as Golde, whose gorgeous voice and sensitive performance belie her age. A lovely sense of history and shared experience with this pair.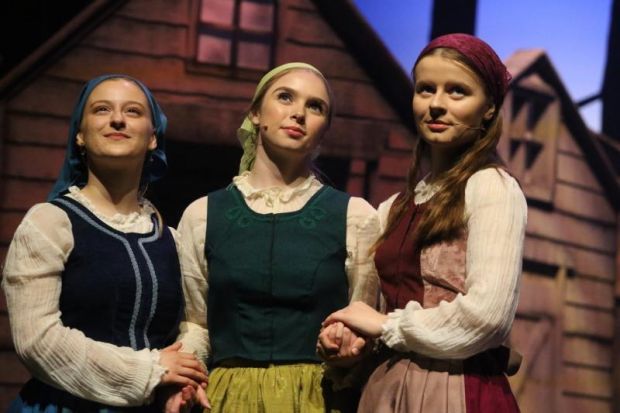 Tevye's daughters are all expertly portrayed. Lucy Gabbay is wonderful as sensitive eldest Tzeitel, Chelsey Ward is gorgeous as intelligent and determined Hodel, with Georgia Bradley delivering a beautifully layered portrayal of Chava - whose story is the most heartbreaking. Breannah Hughes and Sophie Gerus bring strong performances to younger sisters Bielke and Shprintze, nicely completing this quintet.
Great work also from the suitors - all guest performers with talent. Liam Bryant finds the humour and awkwardness in Motel - making him particularly likeable, Leo Rimmer makes a very earnest, passionate and clever Perchick and Jenn Hurley-Green has great charm as Fyedka. We sympathise with rejected suitor Lazar Wolf, nicely played by Orlando Phillips. Solid contributions from the other young men in the cast, William Hutson (Mendel), Alexander Friars (the Rabbi), Stuart Boyd (the Constable) and Rupert Lethbridge (Sasha).
The citizens of Anetekvka are beautifully brought to life - often with scene stealing moments or cameos. Ionia Venoutsos is a superb Yente, with excellent timing and wonderful flair, Tamsyn Crombie as Grandma Tzeitel and Erin Tucker as Fruma Sarah help to make a Tevye's Dream a highlight of the show. Gracie Giffard as beggar Nachum has some outstanding moments - including her unspoken presence. Lauren Goodey, Tess Gresley Ciara Gannon and Augusta Manowskil (Rifka, Mirala, Yussel and Shaindel) all make the most of their roles, while Arwen Ooi has a wonderful presence and plays beautifully in the unspoken title role,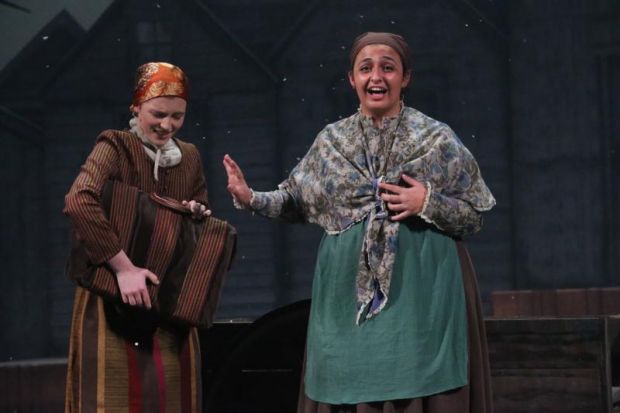 A hardworking, focused ensemble and a talented dance chorus add a great deal to the production - and with 86 performers on stage, the show looks beautifully full. Choreography was by Amy Fittock, adapted well from the original Jerome Robbins choreography.
Beautifully sung under the musical direction of Jane Artelaris, it is also accompanied very well. A twenty-four piece orchestra, which includes many student performers, plays beautifully, with sound well balanced by Ryan Sedgwick.
Costuming is impressive - rather than the muted colours often used in Fiddler on the Roof, Krystal Meek has used a palette of mustard, burgundy, teal and rust, that looks amazing on the traditional costumes. The multi-level set recreates the town of Anetevka - and extends into the audience - its wood construction a link to land, heritage and the colourscape of the original production.
Congratulations to the cast, crew and creatives and all at Perth College for an impressive and heart-warming production of which you should all be very, very proud.
Kimberley Shaw