Getting to Know Footloose The Musical
Adapted for the stage by Dean Pitchford and Walter Bobbie. Music by Tom Snow. Cecil Andrews College. Directed by Sarah Humphreys. Cecil Andrews College Performing Arts Theatre, Armadale, WA. Nov 27-29, 2020
I was lucky enough to watch a dress rehearsal of Cecil Andrews College's production of Getting to Know Footloose. This version of the popular musical is especially tailored for schools and youth companies, with a script that is more family-friendly and a shorter running time. This show, produced by Celeste Underhill, with direction by Sarah Humphreys, with choreography by Natalie Edge, musical direction by Melanie Fowler and lighting and sound design by Ian Ashton, is otherwise very much in the hands of the students, with an all teen crew and student design team.
This show has a great feel, with the ensemble of 25 working well as a team, some strong singing and enthusiastic well-attacked dance numbers. There is a great sense of understanding of the story and a delight in performing as this young cast embraces the 1980s. The set, designed by Yr 11 Creative Industries is simple but well constructed and effective, and well lit by lighting operator Jay Roughton. Student Stage Manager Dean Welch and his assistant Angela Lewis lead a team of Year 9 and 10 Production and Design student crew, and Zara Battersby operates the sound efficiently.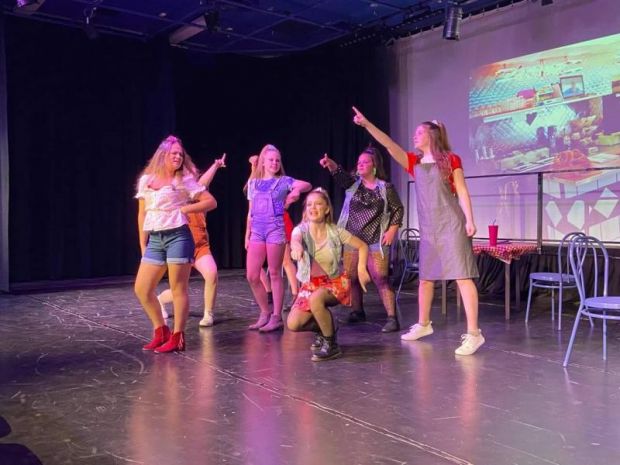 Catalyst character Ren McCormack moves from Chicago to country town Bomont, in the American Midwest, where he discovers that dancing is against the law. James Beck is a worthy leading man, who sings and moves well and is convincing as this reluctantly rebellious outsider. He works well with leading lady, outspoken preacher's daughter, Ariel, played with panache by Stephanie Thompson, who brings lots of likeability to the role.
Alanah Smith is lovely as Ariel's bestie Rusty, with the song she leads, "Let's Hear It For the Boy", a highpoint of the show. Her love interest, gorgeously awkward Willard, is well played by Blade Hayson (in a performance very reminiscent of Thomas Brodie-Sangster's Benny in The Queen's Gambit). His broken hand is an interesting touch, as I imagine Willard hitting a wall in anger. Ariel's other fiends, Urleen and Wendy-Jo, are very nicely played by Hayley Dorrington-Davis and Eliza Veschuren.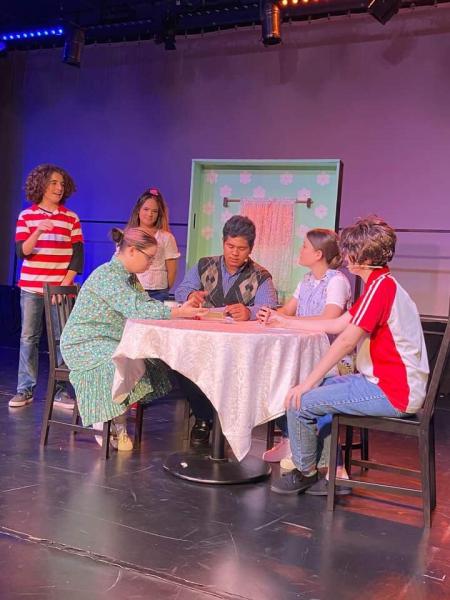 It is very challenging for teens to play older roles, and this young cast does it very well. Kayla Merrett gives lovely nuance to Ren's mother Ethel, and doubles well as Coach Dunbar. Sebastian Havea gives gravitas and depth to the role of Reverend Shaw Moore - charting a believable journey, with Shevon McCormack convincing as his wife Vi.
Playing multiple small roles are Tyasia Tahini, Ben Malcolm, Tamika Knowler and Sienna Patterson (whose Cowgirl is particularly notable), all creating characters well in a short time. The chorus bring energy to every seen.
This is a fun show with some great messages that is clearly loved by its young cast. The audience are going to love it too. All the best for your run!
Kimberley Shaw