Hairspray
Book by Mark O'Donnell & Thomas Meehan. Music by Marc Shaiman. Lyrics by Scott Wittman & Marc Shaiman. Ringwood Secondary College (Vic). Director: Benjamin Moody. Producer: Michael Phillips. Set Design and Construction: Kevin Lewis. Musical Director: Lachlan Mackay. Costume Design Denise Rash. 9th – 17th August, 2013.
Ringwood Secondary College's Hairspray is a sold out seven-show season, and it's easy to see why. Enthusiasm this year has not only been realised in ticket sales, but bubbles over into the ancillary. For example, on arrival patrons are led through a time capsule featuring memorabilia from the 1960's. These include an old record player, a hairdryer (just like my mother had), and old LP record covers. You can even dress up and have your photo taken in a custom-made booth in the foyer.
Hairspray is a gem of a musical. From infectious music, cross-dressing, risqué jokes, larger than life characters, and funky rhythms, every song is a winner. Minimal dialogue in an action packed plot means there are no dull moments. It's the perfect opportunity for a high school cohort to take on characters of their own age.
But beware. If Hairspray is going to work, the players must 'take no prisoners' in character portrayal, solo work, and ensemble numbers. The demands on young singers and instrumentalists are substantial.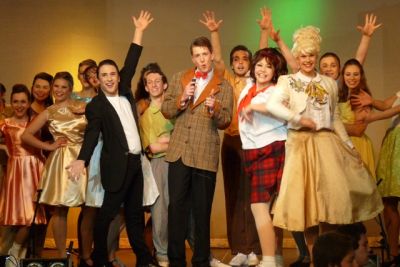 And yes folks, they do it proud.
Highlights were many and included Run and Tell That, You're Timeless to Me (wow you guys), the show stopper I Know Where I've Been and boogie-in-your-seat number You Can't Stop the Beat. While line delivery is occasionally too brisk, and audio sometimes disappointing, no technical hitch seems to dent the cast's commitment to character, be it cool, sultry, hip, bitchy or dippy, to strut their stuff with confidence.
Energy oozes from every pore of every member of the vibrant chorus. It is Big and Bold AND Beautiful. The fact that every one of the 80 cast members is acknowledged with a photo in the foyer is testament to the mutual respect held within this cohort.
This is a production of which all those involved should be rightly proud. As one fellow patron commented at the stage door: You see them up there on the stage and you think wow. But then they come out at the end in their school uniforms and you realise they are just kids. Bravo!
Lucy Graham.