The Laramie Project
By Moisés Kaufman and the Members of the Tectonic Theatre. Directed by Stefan Brand. Willetton Senior High School, WA. Sep 13, 2023
The Laramie Project as presented by Willetton Senior High School's Year 11 Drama Students in a Brechtian style ensemble production, with cohesion and outstanding teamwork. Although I had the pleasure of viewing a preview evening, the production itself featured food supplied by Certificate 2 Hospitality Students, who always supply outstanding quality fare.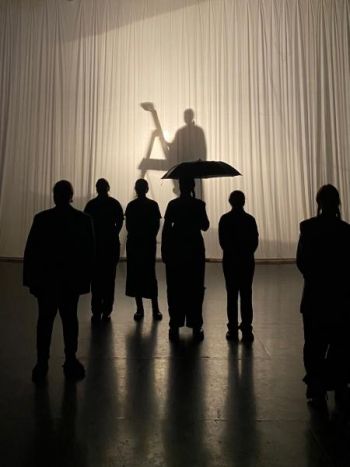 A verbatim theatre piece that was created following the hate crime murder of a gay Laramie, Wyoming University student, Matthew Shepard, the play features dozens of characters and requires the cast to step in and out of characters and play multiple roles; a challenge which this group handled with maturity, intelligence, and talent.
The pre-show "music" is replaced with recordings from recent LGBTQI controversies and incidents and really brings home the message that although the events of this play well happened well before these young actors were born, the issues remain important and relevant.
Actors perform in basic blacks, donning costume pieces appropriate to each character. These spaces were designed by Ava Smith, Cassidy May, Emily Garton and Jacinta Ellis. Emotive and strong lighting designed by Sophia Rodrigues Boly, Amy Weston and Charlie Maguire guides our emotion and helps to establish place.
With a cast of twenty-two, each playing up to six roles, it is impossible to mention every performance, but every actor was focused and working hard. Particularly memorable portrayals include Bronte Spencer's quietly passionate Romaine Patterson, Cassidy May's conviction playing the Minister's Wife, Charlie Maguire's gentle but firm Catholic priest Father Roger Schmidt and Emily Garton's sincere performance as bar tender Matt Galloway.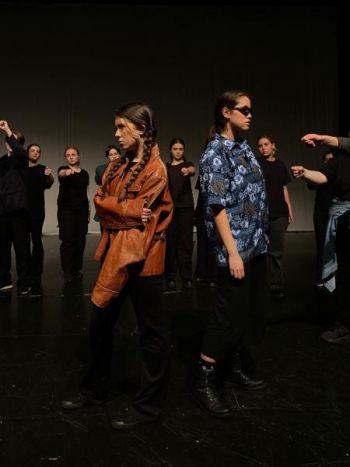 Imogen Callaghan's portrayal of the repugnant Fred Phelps – mostly in shadow, is to be applauded, while Jacinta Ellis pulls an interesting double – playing likeable everyman character Jedidiah Schultz as well as stepping convincingly into the shoes of murderer Aaron McKinney. Marty SchmidBerger shows similar versatility – relatable and friendly as Harry Woods and enigmatic as McKinney's co-accused Russell Henderson, his vulnerability making us question our attitude towards this character.
Leila Zaknich is an excellent narrator throughout, anchoring the show beautifully. Rebecca Slade's Doc is an outstandingly natural characterisation, while Stephanie Irons captures the huge emotions of both hospital CEO Rulon Stacey and Matthew's father Dennis with understated but very believable speeches. Stephanie Crossley's sub-plot of policewoman Reggie – whose life is put at risk by her attempt to save Matthew – is captivating and expertly drawn.
Congratulations to all involved with this production. Willetton SHS should be very proud of all the students and staff who brought this to fruition.
Kimberley Shaw