Les Misérables
Music by Claude-Michel Schönberg. Lyrics by Herbert Kretzmer. Original French text byAlain Boublil and Jean-Marc Natel. Additional Material by James Fenton. Adaptation by Trevor Nunn and John Caird. Scotch College, Torrens Park, SA. July 26 – August 3, 2019
Les Misérables is the longest running musical in the world (with the possible exception of The Fantasticks which played off Broadway from 1960 to 2002). Les Misérables opened in 1985 in the West End and 1987 on Broadway and has remained a firm favourite with audiences and performers alike.
Based on the novel of the same name by Victor Hugo Les Misérables is the story of Jean Valjean, a prisoner who breaks parole, and the police inspector, Javert who continues to hunt him down throughout his life.
Its themes are what makes it relevant, even after 157 years - social justice, human rights and the class conflicts that result from these struggles.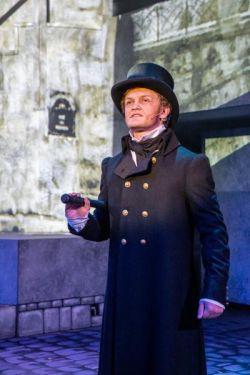 Les Misérables is a demanding show dramatically, musically and in its staging. Scotch College have taken up the challenge and handle this juggernaut of a musical with enthusiasm and talent.
Director Linda Williams brings out the best in every member of the huge cast. The action flows uninterrupted from one scene to another and the characters are well drawn. The dedication of each member of the cast to their role is a tribute to her direction and leadership.
Musical Director Antony Hubmayer's 18-piece orchestra handle the complex score well. Being a sung-through musical the score is as much a part of the piece as the acting and singing, as the familiar orchestral themes of Claude-Michel Schönbergguide us through a story that takes place over decades.
While there is little pure choreography in Les Misérables, there are a number of dances and many numbers to be 'moved' and Choreographic Director Nina Richard's numbers ensure that even though there is a large cast, the stage never looks crowded and each choreographic number is shaped well.
Being a demanding show vocally (and because Scotch College has an abundance of talent), the principal cast is alternated; the 'Paris' cast and the 'London' cast. I saw the 'Paris' cast on opening night.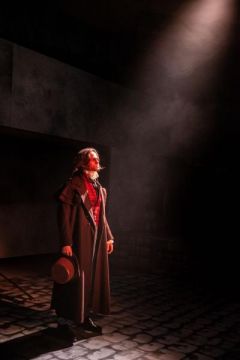 It would be unfair to single out performers as I will not have a chance to see the alternating cast. Having said that, if the performer playing Jean Valjean does not have the charisma and talent to bring this mammoth role to life then the musical will fail.
Ned Baulderstone brings out every nuance of the tortured Valjean. Caught in his own fate he reaches the depths of his soul, dramatically and vocally. Baulderstone comes out 'all guns blazing' and nails it.
He is ably supported by Hugh Whittle (Javert), Georgia Raftopoulos (Fantine), Eliza Fabbro (Eponine), Millie Brake (Cosette), Harry McGinty (Marius), Jack Raftopoulos (Enjolras), Sebastien Skubala (Thenardier), Charlie Miller (Madame Thenardier), Tuilelaith Baird (Young Cosette), Oliver Lawes (Gavroche) and an ensemble that seems endless.
Highlights of the night for this reviewer (and the audience) were – "I Dreamed a Dream", "Do You Hear the People Sing?", "One Day More", "Master of the House" and "Bring Him Home".
Another star of this production of Les Misérables is the staging. A seemingly simple set (Craig Williams and Brian Budgen) is transformed by clever projection and lighting design (Brian Budgen, Craig Williams and Jason Groves). We are transported to sewers, bridges, houses and swirling masses of clouds and fog, which ensure swift transitions from scene to scene.
The famous 'barricade' in Act 2 deserves its own special mention. Imaginatively conceived, realistically constructed and ingeniously operated, it becomes one of the stars of Act 2; bravo to the construction team!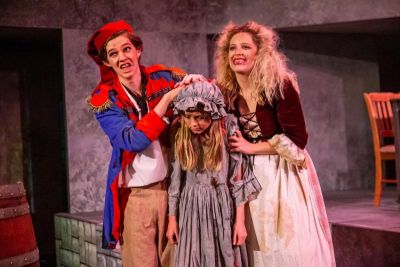 Costume design/coordination by Trish Whittle ensures that the historical authenticity of the piece is maintained.
On the opening night there were some microphone failures and lighting cues that were not completely on time, but I am confident these will sort themselves out over the rest of the season.
I have only two reservations. The tiered seating is necessary, but steep and from where I was sitting (K row) a lot of action at the front of the acting area was obscured by the people in front of me. Also, the lighting in the barricade scene occasionally made it difficult to tell who was singing.
However, these are small niggles in what was an amazing musical journey from a cast of such a young age.
I don't think Les Misérables or musical theatre in general will ever die when there are young performers such as the students of Scotch College to carry the mantle of these classics!
Barry Hill