Mamma Mia!
Music and Lyrics by Benny Andersson and Björn Ulvaeus. Book by Catherine Johnson. directed by Zoe Parker. Centre for Performing Arts, All Saints College, Bull Creek, WA. Apr 21 - 24, 2021
All Saints College's Hothouse Company presented this popular musical to capacity audiences, in a season sadly interrupted by Perth's latest COVID lockdown. A highly energetic, keen and focused young company, this was an innovative production that was very well received.
Playing on a gorgeous set, designed by Jamie Fodor (mentored by Bryan Woltjen), this was a beautiful multi-level setting in candy colours, lit with warmth by Geoff Glencross. This auditorium, while wonderful for assemblies and speech days, poses some particular challenges for design, and these were overcome with great skill. The show also featured some innovative and impressive bird puppetry – as made by Elaine Parker.
The band, visible on stage, worked well under the baton of Musical Director Jeremy Trezona, and featured a mix of students and community members.
The student cast are a united team who work well as an ensemble. Catalyst character Sophie Sheridan was played by Madison Cole (who alternated with Evelyn Ward) on the night I reviewed, in a nicely characterised performance, while Ashley Tsang was very good as her mother Donna, sharing the role with Lana Habibi.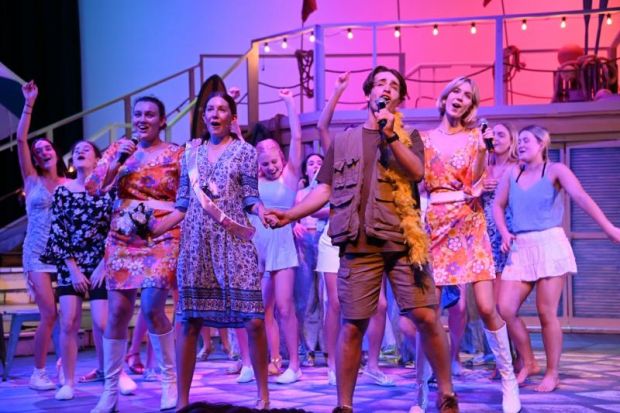 Sophie's potential dads were particularly strong in this production, with excellent acting and singing performances from Hugh McGuire as Sam and Harrison Ion as Bill, and Year 9 student Anthony Prasad belying his youth as Harry. Reuben Rivalland brought charm to love interest Sky, with Rodrigo Goncalves de Azevedo bringing loads of personality to Pepper and Amrit Jessy offering solid support as Eddie.
Excellent character work from a striking Tashie Baker as Tanya, and Chenelle Liyanage as Rosie (who shares the role with Alana Levingston). Sophie's besties Ali and Lisa are very likeable as played by Ashleigh Gurr and Yasi Spencer-Pepper.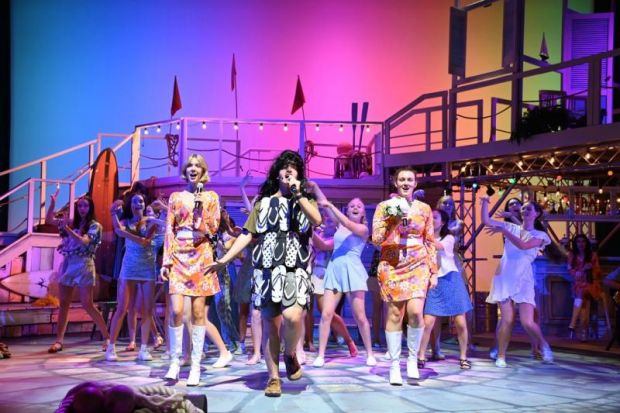 Great work from a hardworking ensemble (including Eva Texler's Priest) who bring colour and joy throughout.
Some really interesting differences in this production, that brought freshness, even for those who have seen this popular show a few times. Most notable include a danced prologue showing the wedding invitations sailing through the air to the guests and the inclusion of selected audience members as guests at the wedding – both of which worked well. The inclusion of younger Sophies in flashback as Donna helped Sophie get ready for her wedding, was also a lovely touch – with lovely work from younger students Imogen Wesson (or Harper Howie) and Astrid Ravn.
A fun show that exuded warmth and cohesion and was adored by its capacity audience.
Kimberley Shaw