The Mikado
By Gilbert and Sullivan. Trinity College, Perth, WA. Directed by Lisa Laurino, Musical Direction by Robert Braham. Gibney Hall, Trinity College, Perth WA. 6-8 August 2020
Trinity College's biannual musical production may have been delayed by Covid 19, but its postponement meant that it fell on the exact dates of Trinity's 1992 performances of The Mikado. While the audience may have been smaller due to current restrictions, it could not have been more appreciative of this campy, fun and high energy production of the Essgee updated script - performed by Trinity students and female guest artists.
A fabulous looking production featured a set evoking modern Japan by Sam Knox, supported by a spectacular lighting design by Brightside Live. Costumes well designed by Kirsty Connell and Paula Nicoletto deliberately spanned a range of eras, united by a colour palette of red, white, blue and black - with the notable exception of villainess Katisha - resplendent in green and gold.
Under the baton of Dr Robert Braham, The Mikado was accompanied by a seventeen piece ensemble of students and community members who interacted with the cast.
The show opens with a show piece that highlights the talents of the male chorus, who were vocally superb, as to be expected of this school - renowned for its choirs. Perhaps less predictably, this ensemble also flaunted lots of personality and energy, and for the most part nailed the quirky and extensive choreography from Paula Nicoletto and 2019 Trinity Graduate Declan Allen. The female ensemble is smaller and has less to do, but also performed superbly.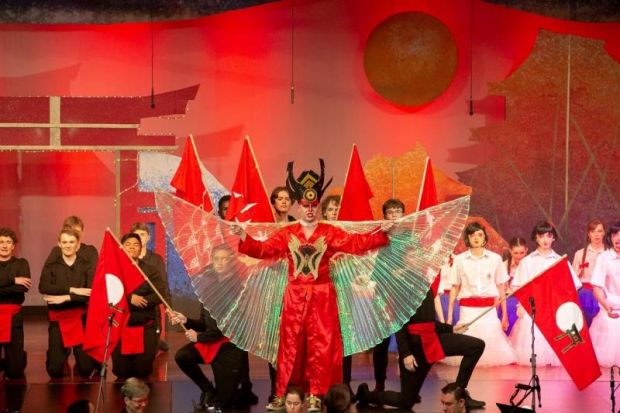 Daniel Santelli shines as the hero Nanki-Poo, with matinee idol styling and an earnest, beautifully sung performance. He is partnered well with Sophie Carroll as Yum-Yum. Our heroine is given even less to do in this version than the original, but this young performer sings beautifully and brings a lovely physicality to the role. Jack Le Goueff works very hard as Poo Bah, Lord High Everything Else - including Chairman of the Trinity College Board and Coach of the West Coast Eagles, handling this comedy role well.
Harry Smith became an audience favourite as Ko-Ko, nailing the 'Little List' number, with a list that included the potential execution of Year Sevens who cut canteen lines, learner drivers and not unexpectedly a certain unnamed Republican president. Jada Rattray was a show-stopping Katisha, and while we were required to suspend disbelief that this stunning young woman could be considered unattractive, her acting and vocal performance was outstanding. Sholto Foss brought finesse to his long-awaited appearance in the title role.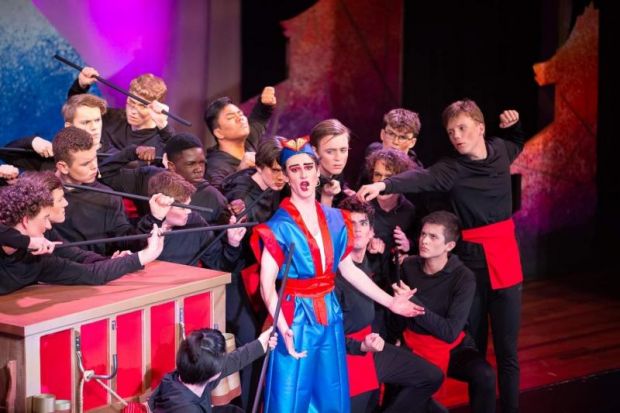 In this version, Yum-Yum is not part of the "three little maids" - who in the original Essgee production were played by the Fabulous Singlettes. Trinity found three young performers who brought a similar larger-than-life energy to these roles. Ben Tucker, Tom Gavin and Luke Alderslade, tall, slim and attractive in wigs and skirts, gender bent these roles with good humour and great style. A wonderful choice and a great nod to tradition from a boys' school.
A wonderful feel good production that was well supported by an outstanding front-of-house team and a lovely sense of community. A show that was well worth the wait.
Kimberley Shaw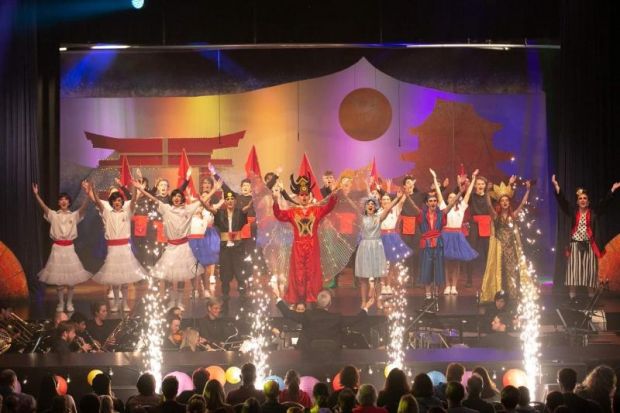 Photographer: Clement and the Fox