Priscilla, Queen of the Desert (Schools Edition)
Written by Stephan Elliott and Allan Scott. Rosny College, Tasmania. Darren Sangwell (Director). Nicole Ottrey (Costumes). Suze Quinn and Andrew Castles (Musical Direction). Dwight Brown Auditorium. 8 – 17 June 2023
This is the first time that the Schools version of Priscilla, Queen of the Desert has been staged.
The musical is a good fit for Rosny College. Priscilla could not have been so successfully mounted without the expertise of Director, Darren Sangwell, Costume Director, Nicole Ottrey and Musical Directors, Andrew Castles and Suze Quinn. It also aligns with Rosny's philosophy of inclusion and celebration of diversity. In the challenge of addressing issues of gender and sexual orientation, the Production Team were assisted by designated cast Cultural Captains, and advised by community groups, health professionals and drag performer, Pussay Poppins. This sensitive rehearsal process was deemed necessary in order to navigate a text which has been adapted as the Schools version but still retains the Ping Pong "Pop Musik" scene (somewhat tempered, but still reliant on an Asian stereotype) and some questionably dated jokes mixed in with serious representations of dversity.
This aside, the exuberance and joy of the show, the vivacity of the music and dance numbers ensure an enthusiastic audience response. Dressed up in false eyelashes and feather boas, the themes of acceptance, family and unconditional love, shine through.
Tick is drag queen on a cross country quest to meet his young son for the first time. Riven with self-doubt, Tick is accompanied on this top end tour by older transgender woman, Bernadette, and brash, irreverent, young Adam.
Tick is sympathetically portrayed by Oliver Dinnessen who is first seen singing the Bacharach classic, "I say a little prayer". His voice is well-trained and has a lovely timbre. Hamish Harle plays Bernadette as warm and vulnerable. Harle and DInnessen blended well in "Always on my mind". Adam, played by Owen Fitzgerald, was camp, sometimes bitter, and irrepressible. His was the best physical depiction of the trio.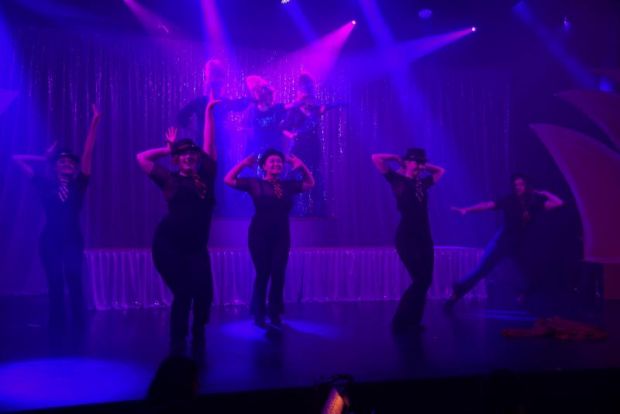 The male vocalists are supported by three female Divas. Sometimes the tessitura of the song (for example, the opening "It's raining men") challenges the range of the performers. If the singing is sometimes uneven, it is also, on occasions, gloriously assured. The show is a vocally demanding one which tests all soloists. The band, however, is unquestionably very strong.
There are many stand out individuals in the ensemble. Grace Wiggins is delightful as Shirley. Saxon O'Donnell sings well as the Priest as does Christian Mosely as Bob. Mani Batchelor displays dance skill as Jimmy.
The set was excellent. The main pieces are Priscilla the bus, and two movable cockies combs redolent of waves, sand, corrugated roads, the Opera house and other things Australian. The most visually pleasing aspect of the show is, however, the 300 plus costumes under the direction of Nicole Ottrey.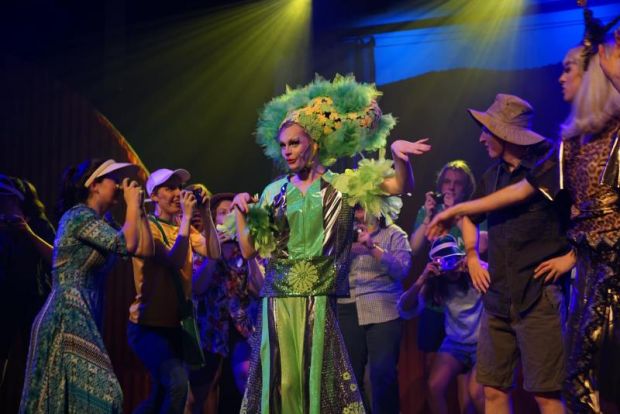 There are so many headpieces: black emu bonnets and bouffant wigs, Carmen Miranda fruit hats, feathers, and fairy lights, a headdress made of thongs (the flip flop type) and another of glass baubles. There are fluorescent rainbow costumes, bell bottom trousers, sequins, capes and collars. Coordinating this riot of colour and movement must have been equally challenging in the dressing rooms as well as on stage.
This all takes place in the refurbished theatre, newly opened after two years of renovations. The carnival atmosphere was augmented on opening night a gayly decorated entryway, free ice-creams and popcorn.
Priscilla, Queen of the Desert, is vibrant romp about being who you want to be. Rosny delivered as it always does.
Anne Blythe-Cooper