Stockholm The Musical
Written by Bronte Forrester and Katherine Reed. Directed by Bronte Forrester. Orana Steiner School Production. Overture Theatre, Weston Creek, ACT. 25 – 28 September 2013.
One of the best things about being in Canberra and attending theatre regularly is that you get to see new works by people of all ages and backgrounds. This production, an evening of music, jazz, crime and betrayal, is a Year 12 project by Bronte Forrester, a student at the Orana Steiner School in Canberra. Dianne Johnson is a talented detective in 1930s Brooklyn, dealing with a tricky cold case of missing women, as well as making her mark in a male-dominated workplace.
The cast is a mix of school students, musicians and experienced local theatre artists, giving a breadth and depth to the roles. The standouts are Detective Johnson played by the talented Katherine Reed, whose singing voice is most enjoyable; Thomas Hartley the bartender played by Casey Tucker (whose final song was a perfect ending), Jimmy Pearce, the junior detective played by Alex Clubb, showing earnestness as well as providing a fantastic rendition of I've Got You Under my Skin, and Bronte Forrester as the woman of mystery, Martha Kay, with many different facets to her character. This musical featured a seven piece jazz band which was great to hear.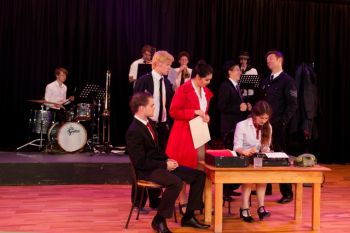 There were a few parts that needed a little work, for example, some scene change moments would be better started with a musical segue; a follow spot would have been welcome to make some stage points easier to see, and there were some intonation problems with close part-singing.
The choreography by Adellene Fitzsimmons was very good to see – a mixture of styles for the many musical set pieces. Particularly good was the jailbird song and dance; the Anything You Can Do medley and dance in the police station showing the differences and expectations of women in the force; and the strict tempo and crisp lines of the train station dance in classical Broadway style, complete with umbrellas and suitcases.
This production is raising money for the local charity Bosom Buddies.
If you are interested in what young directors and actors are creating in Canberra, this is definitely worth going to see.
Rachel McGrath-Kerr