Teacher Music Theatre Scholarship
In 2023, the Junior Theatre Festival (JTF) Australia, along with major sponsor Music Theatre International - Australasia, are proud to again offer the Stage Whispers Teacher Support Scholarship, a unique professional development experience for one lucky Australian teacher.
The recipient will enjoy an all-expenses paid trip to join the action at the Civic Theatre Newcastle for the full two-day Junior Theatre Festival Australia event on 27th and 28th October this year.
This scholarship is an outstanding opportunity for one Australian teacher to take all the inspiration away they will need to create a sustainable musical theatre program in their school or community.
The 2022 winners, Sian Edeson (Music Teacher, Ludmilla and Wagaman Primary Schools, Northern Territory) and James Scott (Perform Australia, ACT), share their experiences.
Sian Edeson
Where do you teach and what type of students do you work with?
I am lucky enough to teach in Darwin across two primary schools – Ludmilla Primary School and Wagaman Primary School. I have taught in the NT for over 20 years with amazing students and families. At each school we put on an annual whole school musical. This is a mid-year event so that we can perform outdoors in our beautiful Dry Season weather.
What expectations did you have about JTF?
I didn't know what to expect about JTF! All previous interactions had been for events cancelled due to Covid restrictions so attending JTF was a real first. I like to facilitate performances; not actually be the performer (!) so I was quite nervous not knowing what was going to happen. I am racing back this year so obviously it was a great experience!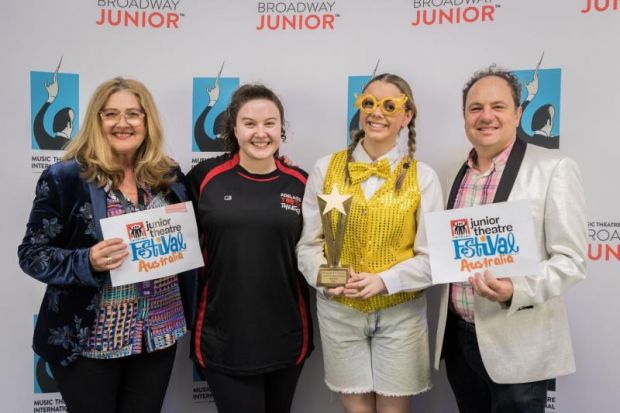 Were they realised or exceeded?
JTF is all about the kids. I SO wish my daughter had been able to participate in her teenage years! Within the focus on working with the performers, the adults and educators can gain as little or as much as they want to. The possibilities are endless. Observation is key to this event – there are so many ideas being presented over the weekend. Additionally, the teacher workshops are exceptional. Hearing from industry professionals is the best way to learn as it is all shared with real life examples. The workshops are not for observation – they were all an hour of fast-paced action – but working together so not too scary for the quiet and reserved types like me.
Was there a session you found particularly valuable? Describe it?
There was not a moment of the weekend that was not valuable. However, the teacher workshop with Marty Johnson on Maximising Rehearsal Time was an absolute stand-out for me. Marty showed participants how to create a scene so that each person has ownership of their position on the stage.
Have you managed to apply what you leaned to your teaching?
I have absolutely applied my learning from the JTF 2022 weekend. It has informed my day-to-day teaching, has had a positive impact on my in-school productions and has given me the confidence to branch out of primary school teaching. From 2024, I will be running a business focussing on Musical Theatre for 8- to 18-year-olds. This is something that does not currently exist in Darwin and I cannot wait to offer this opportunity to our young people.
I am so grateful to Stage Whispers for sponsoring the Teacher Scholarship and to Daniel Stoddart and Shane Bransdon for their ongoing support.
James Scott
I am co-founder of Perform Australia - my official title is Director of Artistic Development, so I oversee the growth of our performing artists at the school - about 500 students in all.
For our younger students I teach musical theatre skills and direct several of the junior musicals each year. We have just finished The Lion King Jr and have just begun rehearsals for The Pirates of Penzance. I have directed and produced more than 20 of these shows. We also run full-time accredited actor training for adults in the form of a Certificate IV in Acting and an Advanced Diploma of Performance. I am the lead teacher on these programs.
I was thrilled to be able to attend JTF in 2022 - it was bigger, slicker and more fun than I ever imagined. I was impressed by both the quality of the content - the shows, the training and the presentations, as well as the quality of the young performers who attended. Also, it was amazing to have access to practitioners who are working in New York and London, and have them bring their expertise and experience and generously share that with us.
My favourite component was the previews of shows being prepared for release. In particular on the opening night we got to see students perform works-in-progress of Beetlejuice Jr and Nine-to-Five Jr. I can't wait for these shows to become available.
It was also great to connect with other teachers and directors, share joys and struggles, and get ideas for the next show.
Apply here now.