Trackers
By D. Hughes. St Hilda's Anglican School for Girls. Directed by Sharon Kiely. Joy Shepherd Performing Arts Centre, St Hilda's Anglican School for Girls, Mosman Park, WA. Oct 17, 2020
Trackers is St Hilda's Anglican School for Girls' first ever Year 7 and 8 production, and played for just two performances, to nicely distanced audiences. The World Premiere of this play, the students were able to work with playwright Donna Hughes and contribute to the development of the script.
Set in the near future, where society is under "Algorithmic" control, teenage Sam, a gifted coder, is moved to "C Zone", a place to 'fix' kids who don't "align" after accidentally accessing hidden information. Sam needs to avoid a Brain Circuit Adjustment and will need help to do it.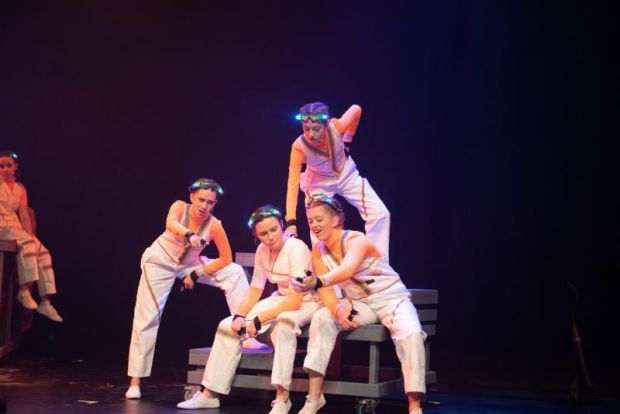 Highly stylised costumes, by Sally Phipps, give a futuristic feel, with effective multi-level moveable set pieces designed by Erin Hutchinson and Sharon Kiely and some impressive lighting from David Spooner used to great effect. Erin Hutchinson and Sharon Kiely also designed a very complex and powerful soundscape. While Yr 7 and 8 students starred on stage, St Hilda's students from Years 7 to 11 stage managed, crewed the show, operated sound and lighting and assisted with costumes - with obvious skill.
The ensemble was awesome, with precision and focus that would be impressive in senior students. Highly polished movement sequences help establish this world, as students play multiple roles including the workings of the internet.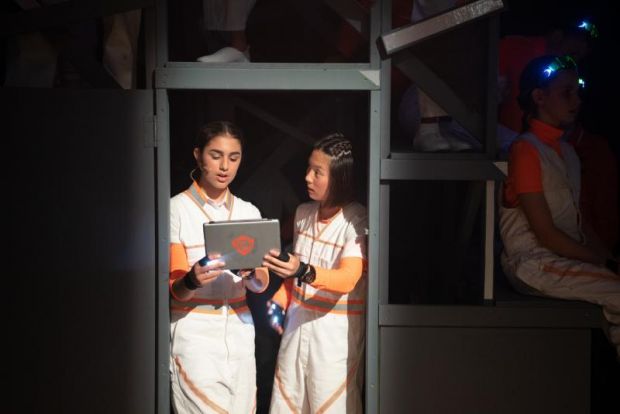 In the central role, Lily Montgomery gives us a likeable and quirky Sam Turing (I love the homage of this character's surname). Eloise Pemberton charted a lovely journey as the clever Toby. Victoria Halabi has a great presence, and while physically unlike her character Max, captures him with depth and much feeling, while Grace Powell brings great energy to the role of Mixie. Margot Eggleston brings masterful authority to the role of the Watcher in a beautifully physicalised performance.
In smaller roles, Alya Ahman Khalif sets the tone for the show in the opening moments as Sigrid - a descendent of Siri or Alexa. Amelia Bruce, Stella Hauff and Maddie Parkin demonstrate great team-work as 'bad guys' Technicians and Regulators. The remaining cast - Piper Brooks, Isabelle Collis, Stella Ebert, Josie Eggleston, Amelia Hagon, Amisha Vijayasekaren and Emily Walpot - playing numerous characters, are strong throughout. Apparently many in this cast were making stage debuts - but all delivered confident, polished performances.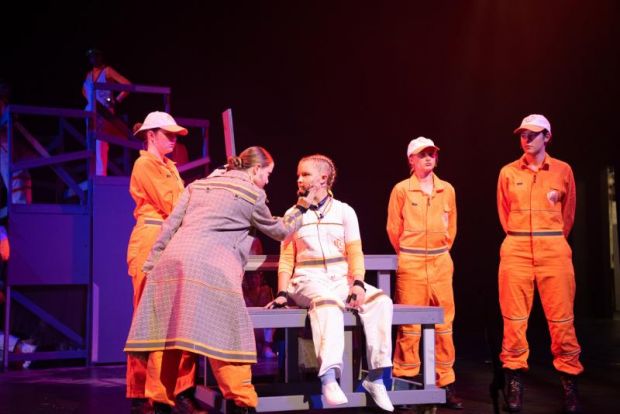 A debut of an exciting new work that I hope to see on stages again soon, as it is an ideal piece for students of that age - and quite probably the best production from students of that age that I have seen. Congratulations to all involved.
Kimberley Shaw
Photographer: Grady O'Connell