We Will Rock You (School Edition)
By Queen and Ben Elton. The Kings School and Tara Anglican School for Girls. Directed by Michael Terzo. March 2018
This production had a level of technical resources which mainstage theatre companies would struggle to match. As you can see from this picture, The Kings School theatre has five pin point laser lights that beamed down to simulate electronic jail bars. Other rays and assorted lights stunned the audience and twirled away during a giddy extravaganza that also included on-stage fireworks and oceans of fog.
The level of detail in the costuming at the Hard Rock Café scene, where rebel Bohemians are dressed up to resemble what they think are pop stars from the past, was also fabulous. Likewise, many of the chorus members had effective personalities that matched their pop identity.
Yes the Kings School is famously well resourced, but a lot of the stage craft was aided by volunteer 'old boys' and 'old girls' who assisted with choreography, music, make up and were included as back up singers. One of the former students crafted a very impressive statue of Freddy Mercury.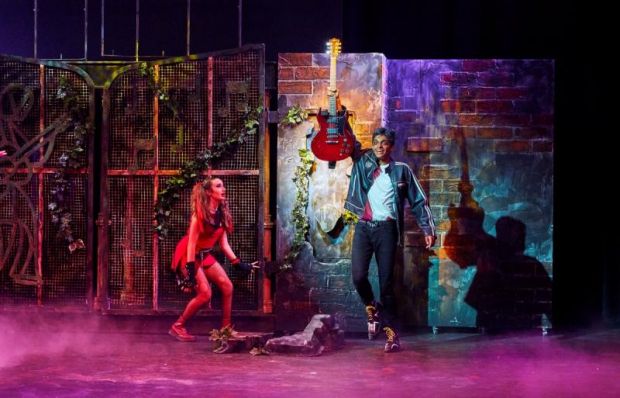 The School Edition of We Will Rock You (which I licence) is in fact identical to the full edition. It is a big musical undertaking and the school brought in professional musicians who formed a kick ass band. The lead guitarist came to the front of the stage for the final song, "Bohemian Rhapsody".
Staging such popular musical productions means the school has a demanding schedule of nine performances. Professionally trained performers are challenged by having to sing such intense roles, so many times, in such a short space of time, let alone teenagers.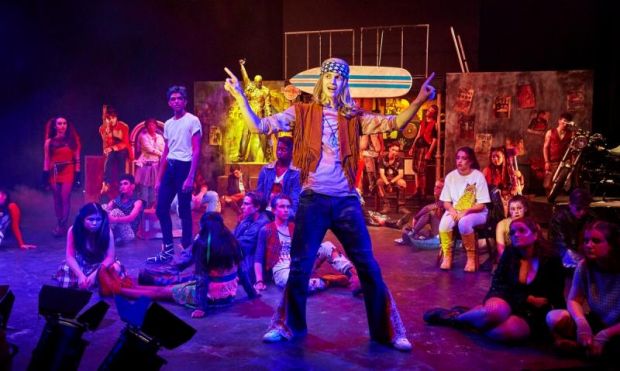 Kate Chidiac as Scaramouche had the stand out voice of the production. She was belting out the notes faultlessly … at performance number six. She had genuine chemistry with Ariyan Sharma as Galileo, who had bucket loads of on stage charisma that helped keep his voice going. … just.
The role of the Killer Queen is also a demanding one for younger voices. In this production it was cleverly played by two performers, Zoe McShane and Joanna Thomas. They faultlessly spoke their dialogue and sang their songs in unison. The most energetic actor on stage was Zachary Grenfell as Britney Spears.
Sitting next to me was a school student in his Kings School blazer. "I am not really into musicals but that was amazing" – was his comment as he left the theatre. There could be no better ovation than that.
David Spicer