Wicked
Music and Lyrics by Stephen Schwartz. Book by Winnie Holzman. Rouse Hill Anglican College (NSW). May 22 – 25, 2019.
Rouse Hill Anglican College turned several shades of green last week for its musical. Green hoarding welcomed visitors to the auditorium. Students and staff in green sequined vests sold programs and treats. The orchestra's green bow ties glittered as the audience found their seats. A giant dragon hovered above the green-draped stage.
For this was no ordinary school musical. This was one of the very first schools in Australia to be awarded the rights to produce Wicked. An honour, yes! Also, perhaps a little daunting – but with a very committed production team and a large, talented cast, the school did Schwartz and Holzman's 'untold story of the witches of Oz' proud.
Fifty-six students, under the direction of Luke Ferrantino, danced and sang their way through the popular story, backed by a thirty-two strong orchestra led by musical director Heather Skinner. Getting students to performance standard, as well as completing all the usual school activities, is no mean feat at the best of times. To do so for the production of such a popular musical must have been even more stressful.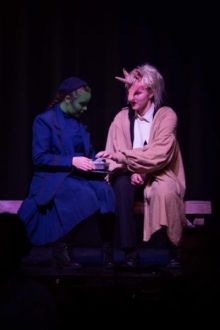 But that stress is always shared across the school, and this was no exception. Principal Peter Fowler oversaw the production as executive producer. Loretta Foster took on the busy task of production manager and Leisa Bromley was assistant director. With many other staff and students working in areas such as set management, stage management, technical coordination, make up, front-of-house management and publicity, this was definitely a 'whole school' event.
For the set, and incredible costumes, they approached the generous committee of Miranda Musical Society. One of the wonderful things about our vast Sydney community theatre network is the gift of sharing. Miranda's set and costumes gave the production an extra professional spark – as did the green smoke, pyrotechnics, pneumatics and movable LED lights!
They all gave the production the spectacle and pizzazz that everyone expects of Wicked – but what of the witches and their friends and foes? No school could have expected more of their enthusiastic students. They worked as an animated, colourful, committed ensemble, whether singing, dancing, moving props, or crouching on all fours as the winged monkeys.
Tayla Pettit and Stephanie Molloy were bewitching as Elphaba and Glinda. Both girls have clear, strong voices and skilfully managed the difficult range and phrasing demanded in their solos and duets. They are also convincing young actors, Pettit finding both Elphaba's pathos, and her underlying strength, and Molloy making the most of Glinda's chirpy self-confidence and satirical humour.
Liam Dwyer played their 'swain' Fiyero, finding compassion and bravado as he gave up the one witch to suffer for another.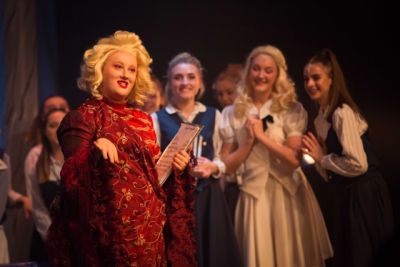 Caitlin Stephenson was an impressively fearsome Madame Morrible. Montanna Schlebusch was the clever but beleaguered Doctor Dillamond. Corey Harvey emerged from the giant mask at the gates of Oz as the Wizard. Erin Pratt languished beautifully in her wheel chair as Nessarose and Caleb Stace anguished dutifully for the love of Glinda.
Whether playing the blue-and-white-uniformed school friends, or the denizens of the Emerald City, the supporting cast were in each musical moment, following Glinda, rejecting Elphaba, and rejoicing together in the finale.
School productions never run for long enough to compensate for the hours of rehearsal and preparation. For three or four performances there are multiple hours of hard work after school hours for students, teachers and parents. But being part of a school production is the best fun. It will be something those involved will always remember – and Wicked is a production of which this school and its creative arts team can be especially proud.
Carol Wimmer