Wicked
By Stephen Schwartz and Winnie Holzman. John XXIII College WA. Directed by George Tsakisiris. Musical Direction by David Dockery. Rocalli Hall, John XXIII College, Mount Claremont. WA. July 9-12, 2020
John XXIII's production of Wicked, as to be expected with any production being mounted at the moment, has had a challenging journey to the stage. Originally planned for April, Wicked played this week to a well-spaced audience, in the college's spacious Roncalli Hall. Their interrupted rehearsal period is not reflected in this polished, high energy and well performed production.
A focused cast of forty-four students is supported by a 21 piece band of students and community musicians, under the baton of James Kros, and a large crew - many of whom are students. The show looks great, with costumes and scenography designed by Kiri Moore, with strong lighting choices by Andrew Portwine. Sound balance is very impressive - designed by Jeff Jansen.
Wicked puts a great deal of pressure on its leading ladies and this dynamic duo does not disappoint, handling these demanding roles with great chemistry and depth. Maddy Holland is a comedic and complex Glinda, who sings beautifully and charts a notable journey. Sophia Matthews is an excellent Elphaba, with whom we empathise greatly, and whose powerhouse voice allows her to nail the first act's closing moments. While this production does not 'fly' its actors, the illusion created on the multilevel set is very impressive.
Conor Doyle is a charming and charismatic Fiyero, while Tom Clifford has wonderful stage presence and brings great character to the Wizard. Lucy Lalor is an elegant and beautifully centred Nessa Rose, working nicely with Josh McNeill's sweet ill-fated Boq. Frankie Rowsthorn relishes the villainy of Madam Morrible with style, clashing nicely with Jordon Lummis' nicely layered, maturely played Doctor Dillamond.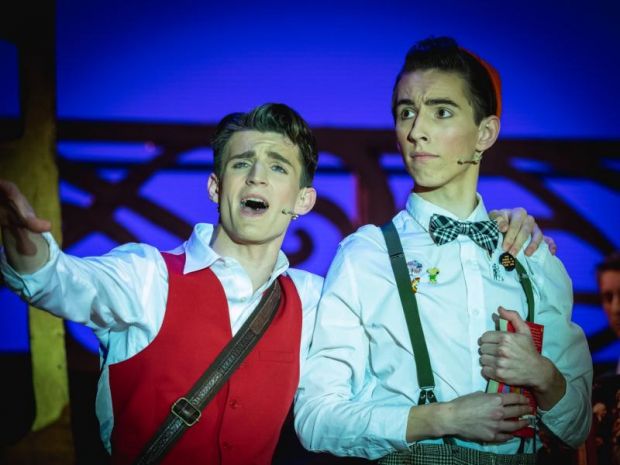 The supporting cast demonstrate great teamwork throughout - special mentions to Shiz girls Lily Slattery, Bea Doyle, Lucy Elliot and Shenae Godwin, Elphaba's parents Oscar Hegge and Ellie Rahaman and Midwife Caitlin Green. Bailey Unrundell's almost silent performance as Chistery gives us one of the most poignant moments in the show.
Lovely atmosphere at this production, from the support of parents front of house, to the palpable camaraderie from the cast throughout. It is no easy achievement to create a production of such a standard at the moment, and John XXIII should be very proud of this lovely, warm creation.
Kimberley Shaw