dateless.com at the Adelaide Fringe
This correspondent met her mate of over forty years by being quirkily computer-matched with him for attendance at a university ball back in the days when computers filled a room; certainly well before the internet existed.
Yours truly was therefore more than a little intrigued to hear of Matt Byrne Media's 2014 Adelaide Fringe production, dateless.com, which runs from February 11 until March 16 at the popular Maxim's Wine Bar, Norwood.
Well-known Adelaide producer/ director, Matt Byrne moved into online dating by writing and directing dateless.com himself and is presenting the Adelaide Fringe season of the show as its world premiere.
Byrne is refreshingly frank about today's dating trends. 'More people are going online to find friendship, love and lust than ever before,' he says. 'It's a great way to meet people, but there are still plenty of pitfalls for the unwary- very often people aren't what they seem to be.'
The dating scene runs riot in dateless.com. We meet ever-ready Rhonda (Kim York), retiring George (Matt Byrne), catwoman Kendra (Sophie Lee Hamilton) and Jack of all hearts (Marc Clement). They are all looking for Mr. or Ms. Right, or, as Matt Byrne describes them, 'Mr. or Ms. Right Now!'
'We'll look at the whole dating scene,' says Byrne, 'and people should be ready for anything or anyone. We take a close look at what online dating offers compared with what it actually delivers. We even take the mickey out of The Bachelor.'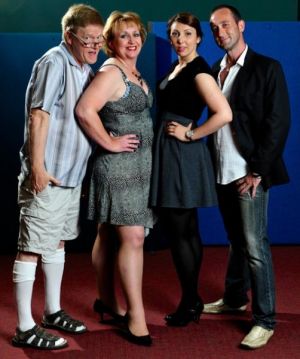 dateless.com also examines speed dating and bachelor and spinster balls. There are a thousand awkward moments as Rhonda, George, Kendra and Jack attend RSV POQ's special night of Speed Mating, Dinner for Sex and Car Keys Twister.
Where computers are involved you'd expect an interactive environment and audiences can definitely anticipate interaction when attending dateless.com. As well as Rhonda, George, Kendra and Jack, the actors play more than forty characters looking for love and lust in all the wrong places. However, the real action starts when the audience gets involved in the search for satisfaction.
Which couple will hook up for the evening? Every night dateless.com will help two people find each other…maybe even without the use of a GPS!
Lesley Reed
Dates: Preview Tues, Feb 11; Season Feb 12- 14 & 16, 19-21 & 23, 26-28. March 2 & 5-7, 12-14 & 16, all 8pm.
Venue: Maxim's Wine Bar, Norwood.
Tickets: Preview- $15; Season- Adults $25, Conc $22
More Adelaide Fringe 2014 Coverage
Michael Griffiths' Annie Lennox and Madonna cabarets
Uncloaked: Satirical Cabaret Fantasy
Joseph and the Amazing Technicolour Dreamcoat at the Odeon - Review of Melbourne season
[Disordered] Action of the Heart
Luminous: Unique Black Light Circus