Jerry Hall to Reprise Mrs Robinson in Sydney in 2016
Jerry Hall will reprise her role as seductress Mrs Robinson for the very last time in the Sydney season of The Graduate. Having previously played in this iconic piece of American culture in the West End, Toronto, Broadway, North America, Perth and Melbourne, Jerry Hall will make her way to Sydney next year. The production will play a strictly limited season from December 2nd 2016 at Sydney Lyric Theatre.
"I am so thrilled the stars have finally aligned and I am bringing the sultry Mrs Robinson to Sydney. As this will be the last time I play this role it makes the Sydney season very special to me. I have always loved Sydney so I am very much looking forward to returning next year with this amazing production of The Graduate and to spend time in your glorious city", Jerry Hall said.
Further to her role as Mrs. Robinson, Jerry Hall has numerous theatre credits to her name, including originating the role of Sugar in Bud Shrake's Benchmark, directed by Michael Rudman at the New End Theatre in Hampstead. She also has had roles in the U.S. and West End productions of Bus Stop, the West End productions of The Vagina Monologues and The Play What I Wrote. She was the guest star with the North American Tour of The Vagina Monologues in Austin, Texas, and toured England with Picasso's Women, a 52-minute monologue. Jerry also performed in the West End hit production of Calendar Girls.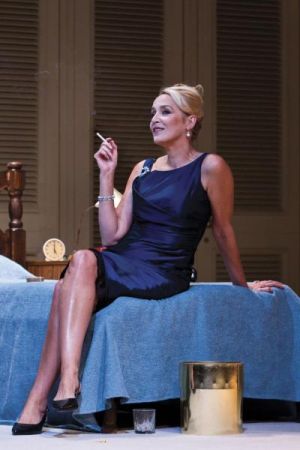 Sharing the stage with Jerry Hall, starring as young, wide eyed Benjamin Braddock is Tim Dashwood. Tim has been working as an actor since graduating from University in 2005. He has performed extensively with the Queensland Theatre Company in productions including Managing Carmen, Romeo and Juliet, The Importance of Being Earnest and The Exception and The Rule. He played Schlomo in the most recent National tour of Fame The Musical and has appeared in a number of independent Australian films including Myles West which earned him a Best Actor award at the 48 hour Short Film Festival. Most recently Tim appeared in shake and stir theatre company's acclaimed production of Dracula and is about to appear in Queensland Theatre Company'sOdd Couple.
Adapted from Charles Webb's novel and the Oscar® winning film, The Graduate is both a poignant coming of age story and a riotous dark comedy. It is set against a soundtrack of some of the most memorable songs of the sixties including Wouldn't It Be Nice – by The Beach Boys, Everybody's Talkin – by Harry Nilsson and of course, The Sound Of Silence and Mrs Robinson – by Simon & Garfunkel.
The Graduate is adapted and originally directed by Terry Johnson, from the novel by Charles Webb and the screenplay by Calder Willingham and Buck Henry. It is produced in Australia by Kay & McLean Productions, Michael Coppel Theatrical and Jerry Hall.
Production design is by Rob Howell (sets and costumes), Hugh Vanstone (lighting) and Christopher Cronin (sound). The Graduate features songs by Paul Simon, performed by Simon and Garfunkel, and original music composed and arranged by Barrington Pheloung.
The Graduate was originally commissioned and produced on the London and Broadway stage by John Reid and Sacha Brooks.
Tickets on sale Friday 16th October 2015
www.jerryhallthegraduate.com.au
Images: (top) Jerry Hall and Tim Dashwood (photo by Jeff Busby) & (lower) Jerry Hall (photo by Rob Kelly).