Madonna vs Annie Lennox:
Michael Griffiths takes them head to head in the Garden of Unearthly Delights.
Not one, but two shows, from one performer; that's what audiences can look forward to when Jersey Boys star Michael Griffiths stages his In Vogue and Sweet Dreams shows, alternating them nightly during the 2014 Adelaide Fringe.
This is a consummate performer, hot on the heels of sell-out seasons in New York, Sydney, Hong Kong, Hobart, Auckland, Perth and the Edinburgh Fringe, where he earned five stars.
In Vogue: Songs By Madonna is a gender-bender explosion, with Michael Griffiths transforming himself into the Queen of Pop.
Sweet Dreams: Songs by Annie Lennox features Lennox's lyrics plumbed for new meaning and melodies reinterpreted, all peppered with musings and remembrances from Annie herself. Unforgettable songs are performed, including 'Why', 'Love is a Stranger', 'Walking on Broken Glass' and 'There Must Be An Angel (Playing With My Heart)'.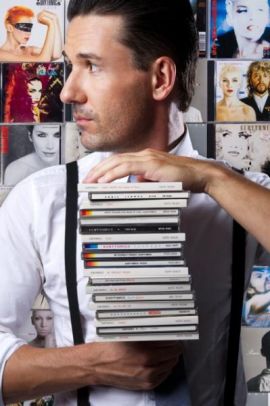 Written by writer/director Dean Bryant (Prodigal, Liza on an E, Britney Spears: The Cabaret), the shows put the undisputed Queen of Pop and one of the greatest white soul singers of all time under the microscope. Audiences will hear some real stories and surprising truths.
Directed by Dean Bryant, Michael Griffiths' Adelaide performances at the Garden of Unearthly Delights come straight from his debut Christmas season of In Vogue at London's St James Theatre, as well as a double bill of both shows at the Midsumma Festival in Melbourne and a limited run of In Vogue at the Perth Fringe.
Adelaide boy Michael says of his home town shows, 'I can't wait to make my Fringe Festival debut in February. I've spent the last four years touring with Jersey Boys and have recently moved permanently back to Adelaide and the timing couldn't be better. Both shows premiered in Adelaide at the Cabaret Festival and it's a thrill to bring them both home to the Garden and being part of the whole Mad March.'
The Edinburgh Evening News said of Michael's 5 star- rated performance at The Edinburgh Fringe, 'Australian Musical Theatre star Michael Griffiths has effortlessly imbued pop icon Madonna with class.'
'I saw one man bring an entire world to life with just a piano, a stool and his genius,' says Jersey Boys co-writer, Rick Elice.
With reviews like these Michael Griffiths' In Vogue and Sweet Dreams seem sure to be amongst the first shows to book out at the 2014 Adelaide Fringe.
Note: Contains strong language.
Lesley Reed
Bookings: Fringe Tix adelaidefringe.com.au 1300 621 255.
Dates: 7 pm, 14 February- 16 March 2014 (excludes 17 and 24 February & 3 and 10 March).
Venue: Garden of Unearthly Delights- Le Cascadeur.
Tickets: $30, Conc $27, Preview 14-16 February $23.
Melbourne Midsumma Festival season at fortyfivedownstairs from January 15 – 25, 2014.
Top image: Photographer: Jon Green.
Link to review of Melbourne Midsumma season
Links to more Adelaide Fringe Coverage
Uncloaked: Satirical Cabaret Fantasy
Joseph and the Amazing Technicolour Dreamcoat at the Odeon - Review of Melbourne season
[Disordered] Action of the Heart