Not All Theatre Has Stopped During COVID
MYP Youth Productions Inc finds a way during COVID, to give 16 young talented performers the opportunity to perform in the Victorian Premiere - The BIG ONE-OH !
There is nothing like the thrill of performing on stage to a live audience, so continuing to bring the Arts to an audience during COVID is especially challenging, however the young Production team of Masquerade Youth Productions have found a way possible to do this online.
Just released from Broadway, from the writer of Footloose Dean Pitchford, this musical is about a 10 year old birthday party, and is full of fun for all the family.
The Victorian Premiere, produced by Masquerade Youth Productions Inc. credits iTheatrics for their innovative talents to re-create the very first zoomsical! Acknowledgement to Music Theatre International – Australasia for their association to make this show available here in Australia for young people to enjoy.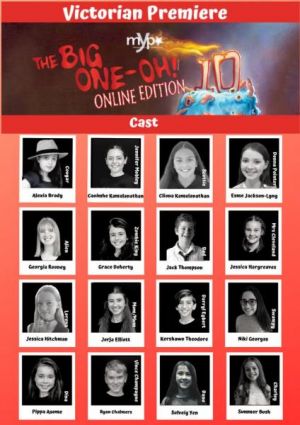 Masquerade Youth Productions is a not for profit organisation, producing inclusive performance opportunities for youth in a fun and welcoming environment.
16 locally young talented performers from around Victoria, have been given this wonderful opportunity and experience of performing to an audience online.
MYP are proud to announce that even COVID has not stopped their Energetic youthful creative team and young performers in producing a quality show for audiences to enjoy - the Victorian Premiere of The Big One Oh! – Online Edition, screening in an exclusive facebook link on Saturday 4 July at 5pm.

Access passes and more information for The Big One Oh! can be found here https://www.myproductions.com.au/how-to-book-tickets