Sarah Gaul: The Iron(ic) Lady
Sarah Gaul says she hasn't been sleeping lately and it's all because of the issues chasing each other around in her head. There's Hyponchondria and of course, Happiness and what about Veganism and Christianity? Plus, there's always Irony and also that biggie, The Debt Crisis.
After successful seasons with her debut shows, My Piano and Me at The Butterfly Club and 2013 Adelaide Fringe, The Iron(ic) Lady at the 2013 Melbourne International Comedy Festival, and FACE at the 2013 Melbourne Cabaret Festival, 23-year-old Sarah Gaul and her piano return to Adelaide for the 2014 Adelaide Fringe. She's back with all-original The Iron(ic) Lady to celebrate the joy, wonder and confusion of being a lady in a world that according to many, is falling to pieces.
This is a very bright lady. Trained in voice, piano and musical theatre from a young age, Sarah started studying law at ANU in 2010, before she moved into studying acting full time at VCA. She left that pursuit in 2012 to pursue a career in comedy and music. A successful playwright, Sarah's original work, Good Grief, took out first prize in Melbourne's 2012 Short and Sweet Cabaret for Most Outstanding New Work. She was a recent Sydney finalist in the 2014 Your Theatrics International Cabaret Competition.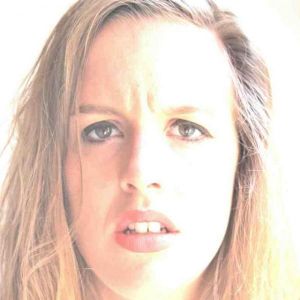 As if all that isn't enough, Sarah now studies politics at Sydney University. I asked her how she combines political studies with musical comedy and whether the two are uncomfortable bedfellows.
'I definitely think my study of politics feeds my musical comedy material,' said Sarah. 'Studying politics opens eyes to what is going on in the world, teaches you to look at situations or media articles critically, and also to look at debates and issues from both sides. I think these skills are fundamental when writing comedy. If you present material that only considers your own perspective, it won't work and people will disengage. Studying politics, aside from being incredibly interesting (in one of my most recent courses, we looked at everything from climate change to the future of space travel) made me realise just how many challenges we face, not only in Australia but as a global community. I think now more than ever, comedy and theatre is important - not just as a kind of escapist thing, but as a way of opening conversations about issues that may be taboo or awkward.'
When I asked Sarah to name a favourite verse from one of her songs and one that best displays her true self, she immediately came up with a number she always uses to end her show.
'I wrote "Make Like Broadway"while I was in drama school,' she said. 'The message of the song is essentially that no matter what catastrophic things happen during the show (or in the course of your life), you know that at the end, the whole cast will always end up onstage performing an uplifting choreographed dance number. So no matter what tragic events happen in the course of a day or a week or a year, I always have a sense that things are going to somehow work out.'
And here is that extract from "Make Like Broadway":
When a beige man with a briefcase falls on you on a tram
You look at his beige life and smile and say 'no worries man'
When they make your latte full cream instead of skim
You say 'you know what, I'll drink it anyway and work it off at the gym.'
When your friend scores a well-dressed spunky man and takes him home
You laugh but then spoon a kebab at 4am, alone
When you realize someone has stolen your lunch,
If you have to, prostitute yourself to get some income.
If you haven't had a romance like Maria and Tony,
Or you have higher standards like Mary Magdalene,
Just know that it's coming, know it's on its way
Because apart from where people die or get STI's, everything ends happy on Broadway.
Reviews along Sarah's cabaret journey so far have been excellent. '…check her out now so you can say you saw her before she was big,' says HECKLER.
'Songs that had the audience in stitches…' – THEATREPRESS.
Lesley Reed
Bookings: www.adelaidefringe.com.au/fringetix/ or 1300 621 255 27.
Dates: Thurs Feb 13, 10 pm; Friday Feb 14, 8pm; Sunday Feb 16, 4pm.
Venue: La Boheme, 36 Grote Street, Adelaide.
Tickets: Adults $20; Conc $15; BankSA customers $15; Fringe Benefits $15.
More Adelaide Fringe 2014 Coverage
Michael Griffiths' Annie Lennox and Madonna cabarets
Uncloaked: Satirical Cabaret Fantasy
Joseph and the Amazing Technicolour Dreamcoat at the Odeon - Review of Melbourne season
[Disordered] Action of the Heart
Luminous: Unique Black Light Circus