The Sheds for Adelaide Fringe
James Cunningham's controversial play The Sheds premiered at Melbourne Fringe 2013, playing eleven shows in a tiny thirty-seat bar and theatre called Long Play. The production team turned it into a locker room for the three weeks of the festival and sold out ten of their twelve shows.
Following the Melbourne season The Sheds is heading to Adelaide to tackle 2014 Adelaide Fringe audiences.
What actually happens when an AFL player comes out? Darren Anderson, star player for the premiership-winning Fitzroy Fighters, is so convinced of his popularity that when he casually announces he's gay he assumes the news will be accepted by everyone. It isn't. Instead, the underlying tensions between masculinity and mate-ship come to the fore in a story rife with violence, secrets, nudity and foul language.
Writer/director, James Cunningham, says he became interested in the subject when he realised certain sports in Australia (swimming and diving, for example) had openly gay athletes competing, while other sports such as Rugby, AFL and Rugby League, did not.
'This was a telling contradiction,' says Cunningham, 'but it was only after discussions and conversations with a closeted league player and close personal friend that I began the creative process.'
The Sheds uses raw, visceral drama to break down sexual stereotypes and dispel the homophobic myths that can persist in sport. Taking inspiration from the Tony-Award-winning play, Take Me Out (Richard Greenberg, 2001) and influenced by Brisbane production The Truth About Kookaburras (Sven Swenson, 2009) – the play examines masculinity in its many forms.
The locker room (or the "Sheds") was chosen as the setting for the play, as AFL Players have often described "the sheds" as their team's "hallowed ground". It is a place where the teams are as one, private, and away from the scrutiny of the public. Cunningham wanted to take the audience into that world.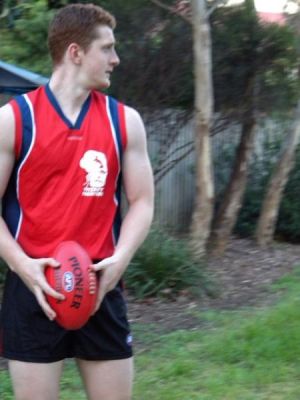 The Sheds is former film student and now writer/director James Cunningham's first live stage production. Cunningham is also an award-winning photographer and writes monthly film reviews for the Australian Cinematographers Society and AC Magazine.
'The main challenge for The Sheds in the beginning was casting,' says Cunningham. 'Finding the right guys to play these AFL Players was certainly a journey. They needed to be fit and athletic young actors who were comfortable with onstage nudity.'
Clearly, the casting issue has been overcome and the same cast that played in Melbourne will be seen in Adelaide.
Patrick Chirico plays Darren Anderson. An actor and musician, Pat has studied at Melbourne's Brave Studios and at the Melbourne Acting Studio. He can be seen in a number of short films and recently in the television show, Offspring. Ludwik Exposto, a talented relative newcomer to theatre, plays Liam Greenwood. Andii Mulders, an actor since his teen years and self-described as 'random and controversial' plays young, troubled Jimmy Davis.
'I'm so excited to bring the show to a whole new audience in Adelaide,' says writer/director, James Cunningham. 'This has been a labour of love as we have taken the show from script to stage and now on tour.'
Note: Contains nudity and foul language.
Lesley Reed
Bookings: www.adelaidefringe.com.au/fringetix or call 1300 621 255
Dates: February 18-22, 7.30 pm (60 min duration).
Venue: The Bakehouse Theatre, Angas Street, Adelaide.
Tickets: Adults $30; Concession $25; Fringe Benefits members $25.
More Adelaide Fringe 2014 Coverage
Michael Griffiths' Annie Lennox and Madonna cabarets
Uncloaked: Satirical Cabaret Fantasy
Joseph and the Amazing Technicolour Dreamcoat at the Odeon - Review of Melbourne season
[Disordered] Action of the Heart
Luminous: Uniique Black Light Circus