Summer of Blood for Fringe
We all know horror movies are gory, but could things get just as gory in the creation of them? They do in Summer of Blood, a new and decidedly screwball comedy to be staged by Blancmange Productions for the Adelaide Fringe.
Written by Robert Armstrong and produced and directed by Stephen Carnell, this sixty minute production incorporates rapid comic dialogue, fast and furious onstage combat, mini-horror movies on a big screen and, of course, lots of blood.
Old friends Simon and Bruce attempt to write a low budget horror film. Their relationship is torn apart when Simon's sister Cat declares she's a better writer. Add in schlock movie producer Marty, who wants total control. Even worse, swimsuit model and aspiring actress Ivory White wants to write, direct and star in the unfolding mega flick, creating more chaos. When the conflict turns gory the audience can be forgiven for wondering who'll be left standing at the end.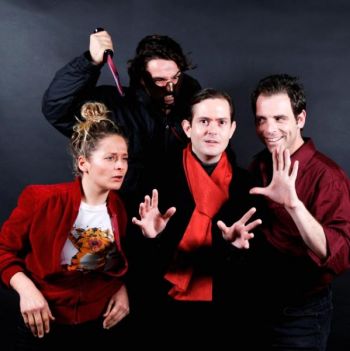 Interested in what got him involved in such a blood-thirsty production, I asked producer/director, Stephen Carnell the obvious question; whether there was blood and gore in his past life. I wasn't quite prepared for his answer.
'Yes, I have had my chest torn asunder three times – in major open heart surgeries,' he said. 'In fact, I was the very first person in Australia to have my heart stopped (for thirty minutes) and replaced by a machine. I made page three of the Daily Telegraph – their headline was "Miracle Boy Cheats Death". This schlock horror headline became a guiding force in my life!'
Summer of Blood's author Robert Armstrong couldn't match that answer (could anybody, really?) but he did say he wished he'd once worked in an abattoir or was raised on a farm (a la "Silence of the Lambs") so that he could give my question the answer it deserved.
'I have loved suspense and horror since childhood,' he added, 'since being read Hansel & Gretel probably, and have always thought that fear could be fun ... and funny. I wanted to write a "buddy comedy" about characters who could start out with completely opposite views, and by the end, reverse themselves; becoming each other in a way. Horror or exploitation movies seemed like a suitably polarising subject, one that was inherently dramatic and would open up possibilities for both chills and laughs.'
Here, Stephen trumped Robert once again, countering Hansel and Gretel with more grownup gore.
'My older brother took me to midnight screenings of horror films at the drive-in when I was a kid,' he said. 'We saw fine films, such as Tarantula, Them, The Tingler, The Wolf Man and the Masque of Red Death. I also read many horror stories as a kid; such as Frankenstein, Dracula, Pan Collections of Horror Stories and more recently, Mervin Peake's Titus Groan and early Stephen King.'
Back to Robert for the less scary, more serious stuff.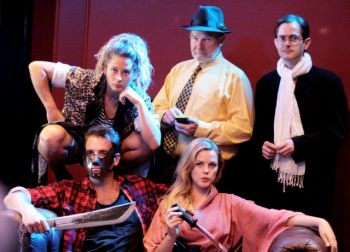 'The inclusion of the horror films in Summer of Blood was an idea concocted to show the audience a visual representation of what is in the minds of the two writers of the film this play is about,' he said. 'The four mini-horror movies are presented in two styles, "classic" (like F. W. Murnau or Hitchcock) and modern Schlock (like Friday 13th or Halloween – or my personal favourite, The Re-Animator). They are gory!'
Despite some casting changes since its Sydney season last September, I've been reassured that no actor has died in the making of Summer of Blood… or at least no one is letting on where the bodies are buried!
Lesley Reed
Bookings: http://www.adelaidefringe.com.au/fringetix/summer-of-blood/b8c755f1-d7de-4369-bd12-b0584c235814
Dates: Monday 24 February - Saturday 1 March 2014, 9pm.
Tickets: Adults $25, Concessions $18, Cheap Tuesday $18, BankSA $18, Fringe Benefits $18.
Venue: Bakehouse Theatre, Adelaide.
More Adelaide Fringe 2014 Coverage
Michael Griffiths' Annie Lennox and Madonna cabarets
Uncloaked: Satirical Cabaret Fantasy
Joseph and the Amazing Technicolour Dreamcoat at the Odeon - Review of Melbourne season
[Disordered] Action of the Heart