TONY AWARD WINNING THE KING AND I RETURNS TO AUSTRALIA
Producer John Frost today (August 23, 2013) announced that his Tony Award-winning production of The King and I, the first Australian production ever to be taken to Broadway, is the next Rodgers and Hammerstein masterpiece to be presented in Australia by the Gordon Frost Organisation and Opera Australia. The Christopher Renshaw directed production premiered in Australia in 1991 to sell out houses across the country, then went on to win four Tony Awards on Broadway in 1996, including Best Revival of a Musical, Best Performance by an Actress in a Musical (Donna Murphy), Best Scenic Design (Brian Thompson) and Best Costume Design (Roger Kirk).
John Frost said, "I know this production of The King and I will be as magnificent as the original, which is remembered as a milestone in Australian theatrical history. It brings me great joy to be able to return to this special production with Opera Australia following out huge success with South Pacific."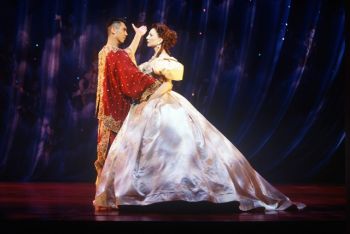 President and Executive Director of the Rodgers and Hammerstein Organization, Ted Chapin, said, "John Frost's production of The King And I is a classic example of taking a theatrical risk - a risk that ended up paying off better than anyone could have imagined. John's resume didn't necessarily warrant him being handed the rights to one of Rodgers & Hammerstein's best shows, but he was enthusiastic and spirited - characteristics I am happy to say he still possesses today - and persuasive. Seeing the production in Melbourne was one of the most exciting nights of my life, and that started the world-wide roll-out which, of course, included a triumphant run on Broadway. I am so looking forward to seeing it again, and Opera Australia is our perfect modern partner."
This production has been described as not so much a revival as a reconsideration of the Rodgers and Hammerstein classic. In addition to telling an unconventional love story, the musical is also about a clash of ideologies and cultures, of East versus West. It features much loved songs such as Shall We Dance, We Kiss In A Shadow and Getting To Know You.
The King and I opens in Brisbane at Queensland Performing Arts Centre in April 2014, then moves to the Princess Theatre, Melbourne in June, followed by a Sydney season at the Joan Sutherland Theatre, Sydney Opera House in September.
Images from the Boradway production. Photographer: Joan Marcus.
More Reading