Xanadu, The Musical
The Adelaide Fringe is an event where almost anything goes, a little like the heady days of the eighties, which was a time that brought us turtles performing martial arts and a man named Marilyn.
Davine Interventionz has decided to go back to the eighties for the 2014 Fringe and dust off roller skates, slide on leg warmers and wear the shortest of shorts. The company is presenting the Adelaide premiere production of the Broadway musical comedy, Xanadu, staged by arrangement with Hal Leonard Australia Pty Ltd, exclusive agent for Music Theatre International (N.Y).
With music and lyrics by Jeff Lynne (Electric Light Orchestra), the musical is based on the 1980 cult classic film, starring Olivia Newton John, Michael Beck and Gene Kelly (book by acclaimed writer, Douglas Carter Beane).
Xanadu, the musical,opened on Broadway in 2007 and was winner of the 2008 Outer Circle Critics' Award for Best Musical. It was also nominated for a Tony Award.
The musical, much like the movie, follows the journey of beautiful, magical Greek muse, Kira, who descends to Venice Beach, California, seemingly direct from the heavens of Mount Olympus.
Kira has a quest- to inspire struggling artist, Sonny Malone, to create the first ever roller disco. He is also inspired to create 'Xanadu', a gift so wondrous no one knows what it is.
Get the picture? Well, the plot thickens when Kira falls into forbidden love with Sonny and her jealous sisters get involved.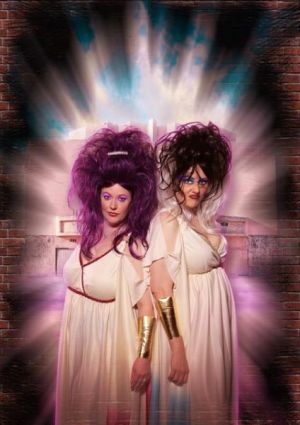 With its roller skating, musical adventure and original scoreXanadu encourages the audience to follow their dreams. 'Magic', 'All Over the World', 'Suddenly', 'I'm Alive', 'Evil Woman', 'Have You Never Been Mellow', and, of course, 'Xanadu' are just a few of the memorable songs.
Brought to the Fringe by the same Adelaide team that staged Altar Boyz at the Adelaide Fringe in 2013, Xanadu is in the experienced hands of Director, David Gauci, Musical Director, Emma Knights and Choreographer, Shenayde Wilkinson Sarti.
Xanadu's cast includes Kate Dempsey (Clio/Kira), Lindsay Prodea (Sonny Malone), Jenny Scarce-Tolley (Calliope) and Megan Humphries (Melpomene).
Xanadu is happiness and hilarity on wheels and is suitable for adults, children and anyone who wants to feel inspired. So, believe you are magic and skate off to Star Theatre One and Xanadu.
Lesley Reed
Bookings: www.adelaidefringe.com.au (Fringetix)
Dates:Wednesday, March 5- Saturday, March 8, 2014, at 7.30 pm. Saturday matinee 2pm.
Venue: Star Theatre One, 145 Sir Donald Bradman Drive, Hilton.
Links to more Adelaide Fringe Coverage
Michael Griffiths' Annie Lennox and Madonna cabarets
Uncloaked: Satirical Cabaret Fantasy
Joseph and the Amazing Technicolour Dreamcoat at the Odeon - Review of Melbourne season
[Disordered] Action of the Heart
Luminous: Unique Black Light Circus