Beach Blanket Tempest – A surf rock musical by Chris Harriott and Denis Watkins.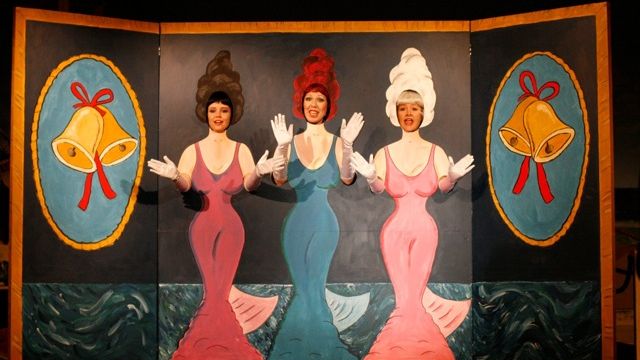 Staging a Musical on a Shoestring Budget.
By Jan Mahoney
Why I Staged It.
I was fortunate to be in a production of Beach Blanket Tempest in 2003 at the Pavilion Theatre in Castle Hill. I had never heard of, but it sounded like a lot of fun. Our Director was Julie Harriott and our Musical Director was the composer, her husband Chris Harriott. I fell in love with its pure entertainment and vibrant music. I took a gamble pitching this show to the Normanhurst Uniting Church Musical Society (NUCMS), who gave me the go-ahead.
Casting
Casting was a challenge. It took work to sell the relatively unknown show to an audience and cast. I put together a power point presentation of photographs of the previous production and a recording.
We had a good turn out to the orientation but were light on men, so I commenced another mail out to encourage people to come along. Thankfully we had some very talented people at the auditions.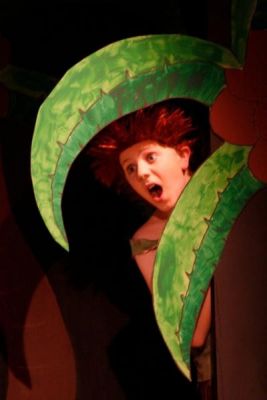 Characterisations
The story is told within the 60's style pop songs, so I had to wait until the cast were familiar with the music before I could begin working on their characters.
Vince, the central character, and his daughter Annette, were cast away on a desert island by his evil brother Tony and his cohorts. Vowing to wreak revenge, Vince finds a genie, Gidgit, who whips up a tempest to shipwreck the culprits on the island.
The island is filled with ethereal beings, including wind, sea and tree sprites, that bring the stage to life. There are also the Supreme Beings (based on the Supremes) and the Reverend Ian Harpy (a game show host), who are also involved in Vince's scheming.
A rock musician with no theatre experience played Vince. He was vocally fantastic, but was used to having freedom of movement and an instrument to work with. We honed his stagecraft and acting skills.
His character had to be strong throughout, driven by revenge, but also showing glimpses of the loving father and the "Duke of Rock and Roll" that he once was. He was on a steep learning curve to give me everything that I asked for.
Our Sebastiane is a highly competent actress, with incredible comic timing, but she had not appeared in a musical since high school and had to hone her singing skills.
Moondoggie has lived on the island all his life, after his mother stood on a stonefish and died. His character is filled with attitude and has to sing aggressively. The acting challenge is for him to be both aggressive and weak at the same time.
Gidgit (the genie) is bright, quirky and totally loveable. She had some quite difficult dance moves and singing to contend with.
Annette and Frankie are the star-crossed lovers. Annette must be the sweet, innocent caring daughter, whilst Frankie has to be able to turn into the naughty suggestive teenage boy, when a spell goes slightly wrong.
The sprites (chorus) are an integral part of the entire island. They are on and off constantly. They must always depict who they are within their movements; they had to be able to dance and sing well. I wanted them to bring out their own personality whilst maintaining their characterisation of wind, sea and tree sprites. Our youngest was 12 years old.
Reverend Ian Harpy had to be an over-the-top evangelist game show host.
I was very fortunate to work with a fantastic group of people who were dedicated to bringing these characters to life.
Designing a Set
Beach Blanket Tempest is set on an island. It had to be a single set with minimal pieces that come on and off as needed. As this theatre has virtually no wing space, it is a challenge to create something out of the materials the society already has.
We came up with the simple boardwalk with Vince's tower at one end and steps leading up from the back and down to the front in the middle with the end of the boardwalk tapering down to stage left, leading to a set of stairs at the edge of the stage.
As I wanted tree sprites to be part of the set, we needed palm trees that they could appear in, so the flats were built to be very solid, with platforms at the back for the sprites to stand on.
The challenge was where to put the 8-piece band, where their rock music sound wouldn't drown out the actors. We put them at the back of the stage and built a structure to hang the backdrop on in front of them. The cast could not see the Musical Director, so we set up a camera to project his image to a monitor at the front of the stage.
Building a Set
We had several working bees with all the cast and crew giving their time. Our challenge was how to create a cliff face that was light, could hang on a brick wall without being bolted on and was easily removed after every performance without falling apart. We decided that paper mache was the way to go. After several failed attempts, one of our Supreme Beings showed us that nothing beats the correct mix of flour and water to make a solid paper mache.
The Supreme Beings appear on stage in a Wedding Card. It has to be fantastic. An extremely talented artist helped us make it.
For the backdrop, I needed a tropical island sea vista. The beauty of community theatre is that people who are passionate about theatre willingly come together (even on a production that they are not involved in) to help to make the magic happen. The people at NUCMS are a joy to work with. I no sooner told them what I was looking for in the set and it was there at the next rehearsal. I wanted a surfboard on a wave for our genie to arrive on. They put their heads together and we had it in a few days.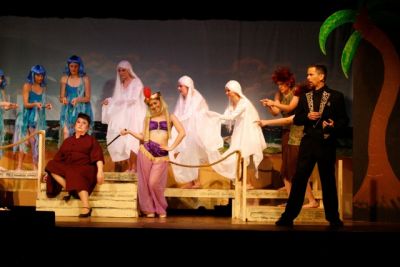 Lighting & Sound
Most societies have to hire equipment on a limited budget and you cannot always have all the microphones and sound effects that you would like. NUCMS has invested in some sound equipment over the years and we hired the extra body mics and equipment needed.
We created ambient sounds, including seagulls and waves breaking on shore, thunder, the sound of power from Vince's staff etc., and this was run via computer from the sound and lighting desk.
Sound levels are always a challenge and we had the added challenge of having a wonderful sounding rock band to work with. We needed the band to be able to play in the style of the music without drowning out the singers on stage. To accomplish this, we controlled the volume through the sound desk, giving us a good balance without losing the strength of the music.
Lighting and sound was integral in creating the tempest, plus I wanted special lighting for the Game Show scene. We begged, borrowed and bought lighting to achieve what we were looking for.
Summary
It is a battle to bring quality productions together on a shoestring budget, in venues that weren't purpose built, but when it all comes together, it is truly magical. Beach Blanket Tempest is a show that I am proud of. The cast and crew worked tirelessly to bring this relatively unknown show to the stage and artistically the results speak for themselves. It was a shame that we did not have more audience for the opening week. Word of mouth did bring them in eventually and many people now know what an entertaining, fun show this is.
Production Team
Director:Jan Mahoney
Musical Director:David Russell
Choreographer:Gai Reckless
Set Design:Jan Mahoney, Ian Wesley
Sets Construction:Ian Baker, Gavin Moehead, Cast
Artwork:Maureen Cartledge, Jeremy Abraham, James Ford.
Sound & Lighting:Craig Pinkerton, Ian Wesley.