Directing Madama Butterfly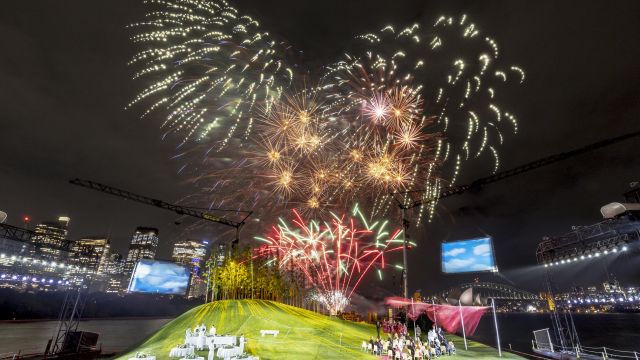 With a cast and crew of 214, a speedboat, two cars, fireworks and two cranes to rebuild the set during interval, Opera Australia's annual outdoor production is a huge logistical challenge. The Assistant Director Warwick Doddrell spoke to David Spicer about the challenges of staging Madama Butterfly.
David Spicer: Last year HANDA's Opera was described by some as Phantom of the Sopera, how has the weather treated you this year?
Warwick Doddrell: We have truly been blessed this year! There's been very little rain so far - but it has been getting cold, so strongly recommend everyone to rug up!
David: What is the big difference between preparing for an indoor production compared to outdoors?
Warwick: The outdoor productions have a lot of logistical challenges that are unique to our setting; we have cars, bicycles, boats and the weather to deal with too - so we're always coming up with plan B in case anything goes wrong! There's a lot of wonderful opportunities for storytelling and imagery that we can only do on this scale, such as our beautiful hill and the moon!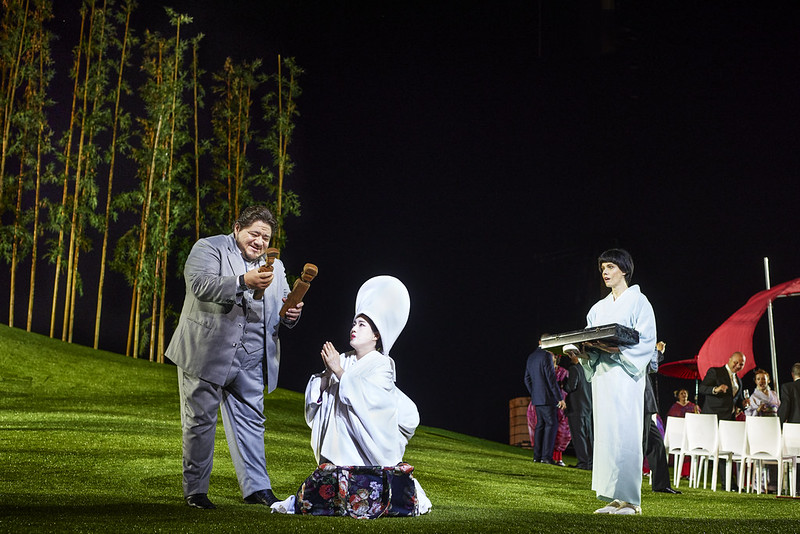 (Photo by Keith Saunders.)
David: This is a modern interpretation of Madama Butterfly, could you describe how the costumes and set inform that?
Warwick: The original production was set in 2014, when it was first staged and so we adhere mostly to that with modern dress. The more traditional kimono costumes are either more ceremonial for Butterfly and Pinkerton's wedding or a specific character choice, to show someone who is more connected with the 'traditional' ways of life, as opposed to a more western ideology. The set in particular feels incredibly relevant for today - we see a beautiful green paradise get torn down to make way for a failed apartment building - a visual representation of Pinkerton's impact in the story.
David: I was most impressed at the bump in of a whole new set piece of a house after interval. Can you describe the logistics of that?
Warwick: The interval is an incredible show in itself! There's more than 20 individual crane moves to lift in and out different pieces of scenery, and it takes our amazing props, stage managers and mechanist teams 30 minutes to essentially build a house on stage! It's an intricately choreographed ballet in itself!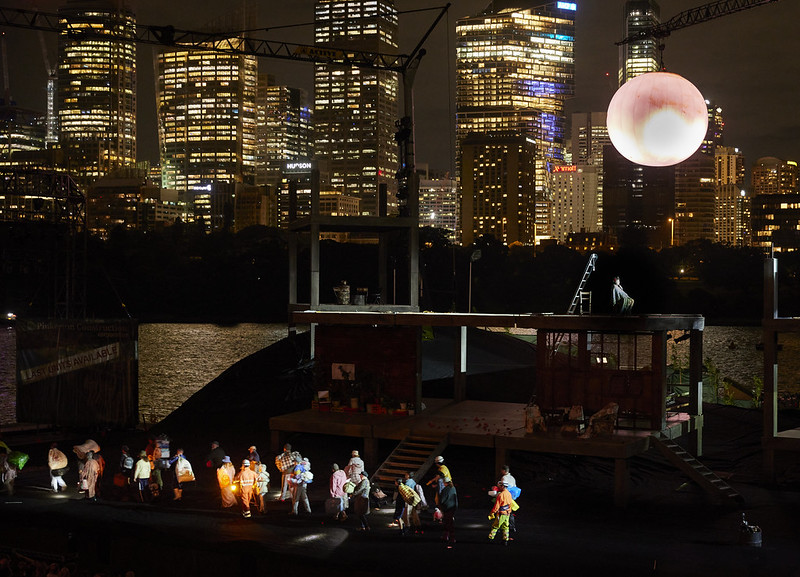 (Photo by Keith Saunders.)
David: The speed boat is a pretty snazzy part of the production – have you been able to take it for spin?
Warwick: I haven't, but it's a beautiful machine, and goes incredibly fast!
David: Whilst the set is updated, the music and plotline are not altered, given there are some misogynistic aspects of the story, would you like to update that also if it were possible? If so, how?
Warwick: I wouldn't update it at all for this production. The original creative team have used those elements to tell a story that comments on our world today. Pinkerton embodies a prevailing Western attitude, a kind of capitalist colonialism where the world is for him to turn into profit and pleasure, regardless of the consequences. I think we see this a lot today, particularly in a post-covid world.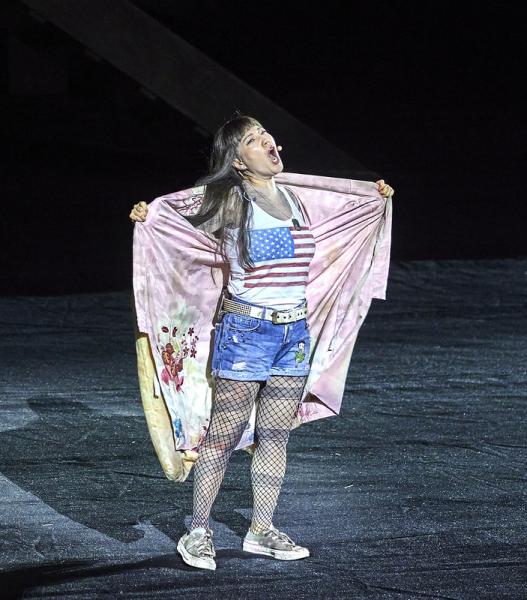 (Photo by Keith Saunders.)
David :The Spanish theatre company La Fura dels Baus is behind this production, what has it been like working with them? What did you learn from them?
Warwick: It was such a joy to work with the team from La Fura dels Baus - they brought a fierce joy and passion to the rehearsal room, always pushing and striving for a very authentic, honest portrayal of these characters moment to moment. The detail is exquisite, and I think everyone found it quite a challenging but invigorating process. I learnt a lot about inspiring performers to bring their own thoughts and energy to a role.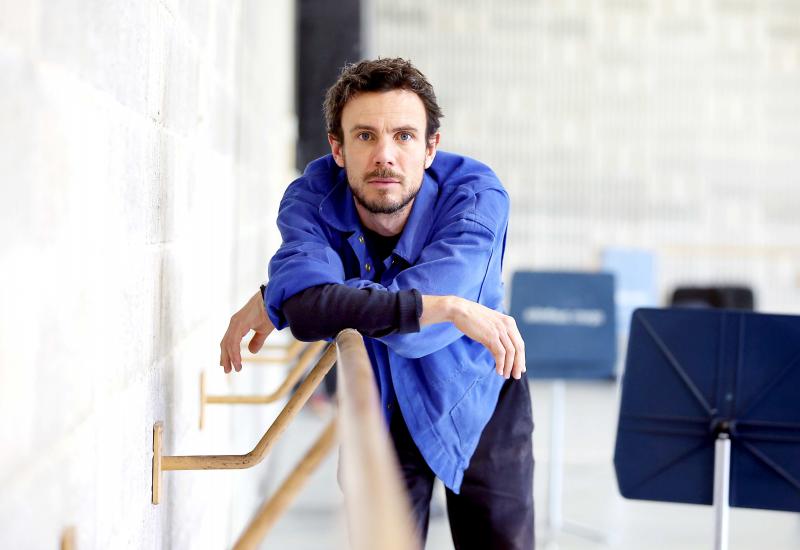 (Image: Warwick Doddrell. Photo : Jane Dempster, The Australian.)
David: Can you describe how your role of Assistant Directing fits into the big puzzle of putting the opera on?
Warwick: I am a very small piece of the puzzle. During rehearsals my role is to support the director and the cast to put the show together, and then once we are in season I maintain the director's vision. One of my favourite aspects of the role is collaborating with the other departments; company management, stage management, wigs, makeup, wardrobe & the cast to keep the show as slick as we can, regardless of what situations are thrown at us!
David: This production was taken overseas, did they have a backdrop as impressive as the Sydney Opera House?
Warwick: This production has been set against the ancient ruins of The Baths of Caracalla, in Rome and also the Circus Maximus. They used a lot of projection to create the city lights and skyline on the ruins which is spectacular - but you just can't beat the real thing here in Sydney!
David: What do you find most exciting about this production?
Warwick: The performances are thrilling. It's a very contemporary approach to opera and feels much more like a play, an intimate drama between people on stage - just set to the most beautiful score.
(Lead photo: Hamilton Lund.)