New Directions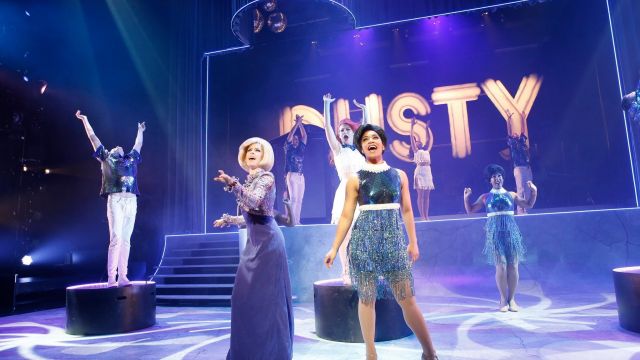 Image: Dusty, directed by Jason Langley (Photographer: Jeff Busby).
Coral Drouyn talks to three of our most acclaimed directors about their futures - and the future of Australian Theatre.
I remember auditioning for a school play (and yes, I got the part - Mrs Petrov in Shaw's Arms and the Man) and the boy who was directing said he wanted the job because "Directors get to order the actors around."
I doubt that my three much respected guests would subscribe to that scenario.
Roger Hodgman is a multiple award-winning director (Grey Gardens, A Little Night Music, Who's Afraid of Virginia Wolf) and a triple directing threat – stage, television and feature films. There are very few of our acting elite who haven't been directed by Roger at some time in their career.
Jason Langley is better known to some as an actor, but his breakout directing role in terms of acclaim came with the delightful musical on the life of Gertrude Stein, Loving Repeating, which won him Best Director at the Green Room Awards in 2016. He went on to direct Dusty at the Melbourne Arts Centre, Wonderful Town at the Sydney Opera House, and other highly acclaimed productions.
Neil Gooding is a director/writer/producer and perhaps the most entrepreneurial of my guests. Instrumental in originating the Hayes Theatre and Packemin Productions in Sydney, and bringing Australian Musicals to a world stage as producer and director, Neil has multiple award nominations as a director, most notably for Gutenberg, The Musical. If there's a hidden gem of a musical waiting to be found, Neil will find it.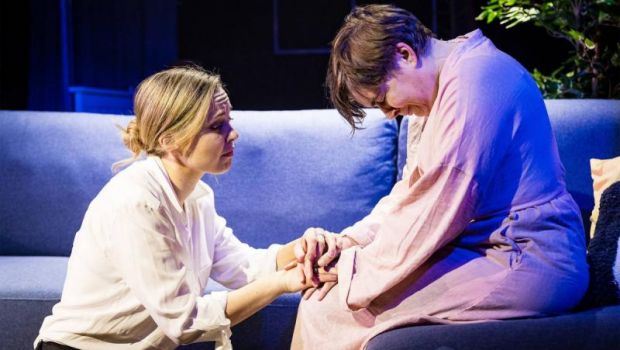 Image: The Life of Us, directed by Neil Gooding (Photographer: Grant Leslie).
So, three respected directors, all involved in productions in 2020, and then Covid-19 strikes. We know how performers have fared this year but what are the repercussions for directors in the future?
I asked all three what they were doing when "the lights went out".
Jason: "I had just closed my first show for the year, which was Elegies in Brisbane at the Queensland Con, Griffith University. The following day was March 15 and as I was flying back to Sydney, commercial theatres were having their final performances before going dark for eight months. I was flying back to start another rehearsal period. Instead, I went straight into lockdown."
Neil had a similar experience.
Neil: I had just opened The Bridges of Madison County in Sydney when Covid became a massive factor. That show was closed very prematurely. Similarly, Back To The Future had only just opened in Manchester and was closed. Luckily that will be heading to the West End next year. And on arriving back in New York, I had to cancel Queenie van de Zandt's tour of Blue across the USA.
For Roger it was a different experience.
Roger: I was pretty busy – directing episodes of Wentworth (TV) then working on upcoming productions and a film project - but it has been a strange time.
Jason: For six weeks I relaxed, read and pored over all the theatre online. We have a few musicians in our street so each Saturday afternoon we'd have a street Iso-Jam, which found me singing again after ten years. Neighbours would sit outside their homes on the pavement with wine and cheese and it became a lovely community building experience. But It was tough watching mine and my partner's (Musical Director Michael Tyack) work for the year slip away, and heartbreaking seeing the decimation of our industry.
So, did they think this might be time to change careers?
Roger: No. Throughout its history, theatre has been thought to be doomed – during the plague, during wars, with the arrival of film, radio, television and all the current ways of delivering stories dramatically. But it never does die, although it has good and bad times."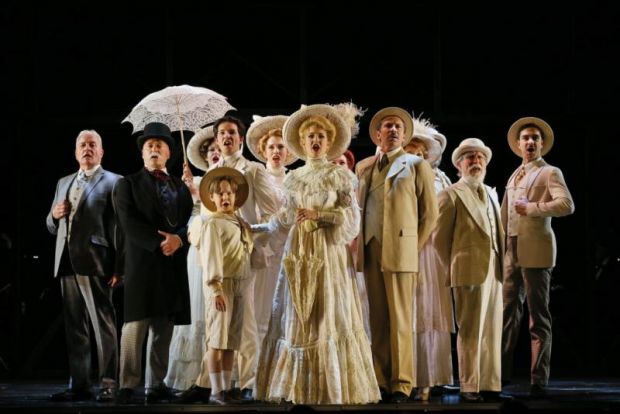 Image: Ragtime (The Production Company, directed by Roger Hodgman. (Photographer: Jeff Busby).
Neil: I quite often think about what I might do instead of theatre – but to be honest, that has not really happened too much during this Covid phase. I seem to have more projects bubbling along than I normally do. It is just a case of not knowing when they may actually see a stage."
Jason: I've always wanted to work with animals in some capacity, but I didn't have to ponder that career shift for too long. Although the landscape of my 2020 changed significantly, several opportunities popped up - online masterclasses and workshops; quite a few dramaturgy projects; performance coaching and an exciting new development project.
But will theatre come back, and will it be as we have always known it, I ask them, or something entirely different?
Jason: Hopefully we might see more boutique musicals - more home-grown musicals in out-of-the-box theatre settings. I suspect we need to reinterpret how we use venues and find ways to create pop-up theatre. Perhaps we need to come up with ways of seating audiences differently and less formally.
Roger: I'm an optimist and believe an audience will come back, including a new one. But I do think we're in for a period of smaller casts and simpler designs, which is not necessarily a bad thing. But I also think audiences will be hungry for some large-scale work.
Neil: I think it's the economics and structuring of theatre that will need to change more than the actual content. Broadway has already been going through a big change. Smaller shows such as The Band's Visit, Hadestown, Dear Evan Hansen, Fun Home and Come From Away have become a much bigger factor in New York alongside the mega-musicals over the last decade. This is exciting for creators, but it may cause a problem for Australia, as some of these shows will probably not be commercial hits in Australia."
Jason: Neil created an extraordinary event with Who's Your Baghdaddy, and his marrying of technology with Covid restrictions and musical theatre was incredibly exciting and effective. However, if theatres were no longer a viable option, I would imagine we should write and create material specific for the online medium (though is that just creating TV??).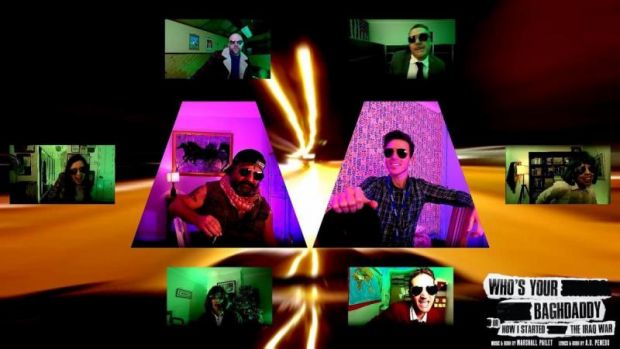 Image: Who's Your Baghdaddy, directed by Neil Gooding
Roger: I think streaming projects are a wonderful and innovative response to the particular needs of this time. I don't think, in the end, they will replace live theatre. There is something so particular and emotionally satisfying in sitting among a group of people experiencing a story together. Whenever I have seen a streamed or filmed version of a show I have previously seen in a theatre it has fallen short of the live experience. But I have been grateful for it.
Neil: I don't think these productions will become the norm, and I don't think that they will replace the live experience. However, I do feel that coming out of Covid there will be a new genre of entertainment. One that is based on screens – and over time will become its own art form. It will start being less about putting filmed theatre pieces onto screens, and I think it will be more likely that writers will start creating pieces that are meant to be viewed on a screen. It will be some blend of theatre and film – but will be slightly different to both I hope.
Roger: Yes, I'm sure shows will be (and indeed some have been) written specifically to accommodate new conditions. For example, I have been involved in developing an opera written specifically for socially distanced performers and to be streamed. But this may only last a few years, until we get back (as I hope and believe we will) to some kind of normality.
Jason: Creative people will always work towards finding solutions - it's in their DNA. I think in the year to come we all need to experiment. Yes, potentially a director's role could look very different, especially if you, say, devised a geographically interactive piece of musical theatre that could be experienced at any time with a pair of headphones and a map. Or if you created 'peeping tom theatre' in an abandoned apartment block with an audience standing outside, socially distanced and looking in. Fundamentally, I think we will work towards getting back into theatres, although it may be a new refurbished kind of live theatre 2.0.
What impresses me so much about these three directors – who span collectively more than 75 years in theatre – is their belief in the future, while honoring the past. They simply don't entertain the possibility that theatre as we know it could be beaten by any physical manifestation. Despite being movers and shakers, at heart they are still dreamers - like the three kids who directed school plays.
So I ask them one last question about those dreams - what show (that they haven't yet directed) would they give their eye teeth to have a shot at in this new world of theatre?
Image: Dirty Rotten Scoundrels, directed by Roger Hodgman (Photographer: Kurt Snedon).
Roger still has a personal bucket list.
Roger: I've directed a lot of Sondheims, but one I still long to do is Sunday in the Park with George. And a couple of Britten operas.
Both Neil and Jason have their eyes firmly upon the possibilities ahead.
Neil: I am going to cheat a bit here, and say that my ideal is to work on a show that is not written yet, and oversee that from its draft stages to becoming a global theatre hit. That is the most exciting process to me and inspires me more than directing existing shows (although - I do love doing that as well!)"
Jason: Giving 'your eye teeth' implies a show that has been around for a while that other directors have already had a shot at and I've done plenty of those in my career. I'm excited by the prospect of musical theatre in Australia evolving with the times. The events of this year have highlighted the lack of diverse representation on our musical theatre stages. Musical theatre in Australia is ten years behind the UK and the US. As Australia is going to find post-Covid pathways back to theatre before its West End and Broadway counterparts, my hope is that we will stop playing so safe and so white and find bold approaches to exciting and inclusive musical theatre, both commercial and independent. Something I'd give my eye teeth to direct would be a hugely successful production which I had a hand in developing from the very beginning. That would be something for the memoirs!"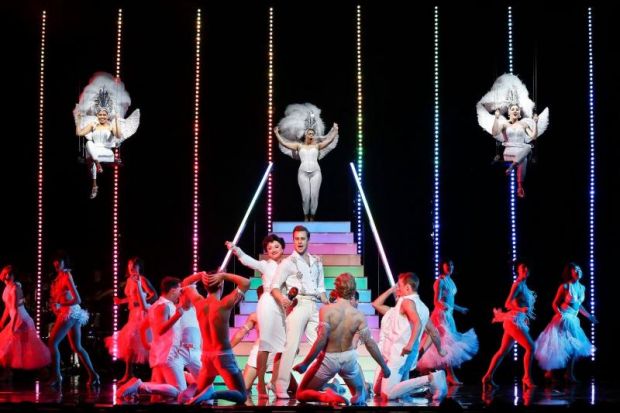 Image: The Boy From Oz, directed by Jason Langley (Photographer: Jeff Busby).
These three directors give just three perspectives on how we move forward, and fortunately we have a country filled with directors and performers of great vision and talent. We should all feel confident about the future. It takes more than a pandemic to kill live theatre. And now that we've looked to the future, in our next issue I'll take my guests back to their beginnings and explore how they got started and their approaches and beliefs about directing for theatre.
Part 2 of this series is available in the March / April 2021 edition of Stage Whispers - Click for more details.