Japan Performance Arts, Dance and Culture tour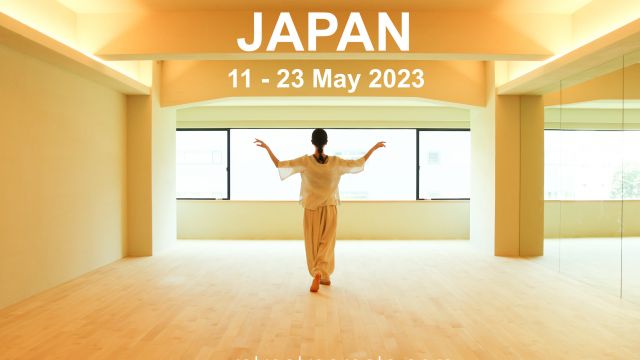 retreat|recreate is offering this 13 day, 12 night women's tour from 11-23 May 2023 exploring beautiful Japan through the lens of its performance arts, dance and cultural traditions.
The trip features a plethora of fabulous dance and performance art experiences and workshops. The tour commences in beautiful Kyoto, the cultural and historical heart of Japan, continues on to Kawaguchiko with its stunning lakes, and serene views of Mt Fuji and finishes in fabulous, bustling Tokyo.
The itinerary features NINE dance, theatre and movement experiences including private performances, demonstrations, artist talks and introductory workshops including a Samurai kenbu (sword and fan dance) performance and workshop; the rare opportunity to observe Geisha training; a Butoh performance and workshop; a Mikomai (shrine maiden) experience and workshop; a Noh experience and workshop; a Koenji Awaodori (folk dance) workshop; a Taiko (drumming) workshop; a private studio ballet performance, beginner ballet and stretch class with a professional ballerina and teacher; plus a lakeside yoga and meditation class.
Further cultural highlights include: ticketed seats to a geisha dance performance at Kamogawa Odori (a geisha Spring dance festival); a temple festival; a folk festival parade; a traditional tea ceremony; visits to significant temples, shrines, and gardens; several galleries and museums; a handcraft market; an antiques market; food markets; travel on a Shinkansen (bullet train) to a region with fabulous views of Mt Fuji; a Shrinrin-yoku (forest bathing) session; plus major iconic sites such as Shibuya crossing, Harajuku (known for its crazy street fashions), Gion (geisha and entertainment district), Ginza (high end shopping district), Ningyocho (an ancient merchant hub), the bright lights of Shinjuku and Golden Gai; fabulous Japanese cuisine and much, much more!
More details (itinerary, price, inclusions, booking form etc) of this exciting immersion into Japanese dance and culture at https://retreatrecreate.com/japan-dance-may-2023/ or retreatrecreate@gmail.com