StageCenta - Swipe For A Show.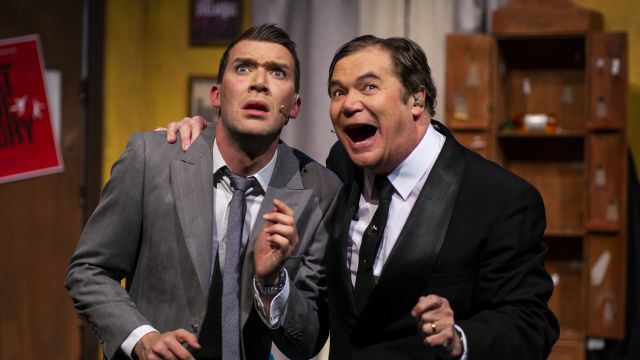 Canberra Theatre enthusiast Richard Block has launched a free national theatre App in 2021, featuring a comprehensive show guide with aggregated reviews and features. David Spicer reports.
The first musical which Richard Block directed in 2012 was How to Succeed in Business Without Really Trying.
Since then, he has been succeeding in show business, but the truth is he's been trying really hard.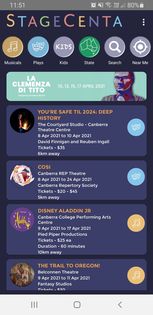 After he became hooked on theatre, he set up his own company - Dramatic Productions. Its last production in 2019 was a pro-am season of The Producers starring TV personality Daryl Somers, and directed by Rachael Beck (pictured).
"I fell in love with theatre late in life. I was 30 at the time. I loved working with the people and creating this positive experience for people to enjoy. And it's a very rewarding field to be in," he said.
For the first musical he directed, he set up a mobile phone website for patrons.
"It had a welcome video and showed how we did magic tricks and how we did the costumes," he said.
The template attracted the interest of licensing agent Hal Leonard, who asked Richard if other theatre companies could use it.
The next step was to found StageCenta, a ticketing service for other performing arts groups.
Richard runs a family publishing business with a focus in the racing and sporting industries. He has five employees who multi-task their publishing duties with his theatrical enterprises.
"We offer boutique ticketing services for small to medium companies or schools who do not have time to answer calls from the public," he said.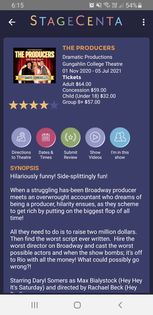 "The majority of our clients are schools (putting on a musical or play). We take all the problems from them."
The StageCenta website then expanded to artist profiles. Richard got the attention of the industry, when he set up a competition in 2020, which saw actors eligible for prizes of up to $500 for loading their profiles on his website.
His big project for 2021 is the StageCenta App, which is scheduled to launch in March.
He promises that audiences will be able to locate "every show, everywhere, every day with a swipe of the finger."
The App will have show details and times, a geographic location function to reveal what shows are nearby, directions to the theatre, cast bios, links to ticket purchases, reviews and features.
StageCentra will not be sending out its own reviewers, rather it will aggregate content from existing media – such as Stage Whispers Magazine.
"We will list hundreds, if not thousands, of productions."
Initially StageCenta will load the majority of shows on behalf of companies, but will encourage companies and venues to list and edit their own info via the website.
Actors and creatives who have registered their profiles at www.stagecenta.com will appear on the StageCenta App.
Richard is itching to get back into producing his own musicals. Dramatic Productions' next season is the musical Dogfight.
Across the ACT, community theatres are coming back with seasons of The Sound of Music, Mamma Mia! and Jersey Boys in the first half of the year.
"This year is looking invigorating. We are all finding ways of making it work with restrictions on capacity."
Visit www.StageCenta.com
Photograph: Jason Bensen as Leo Bloom and Daryl Somers as Max Bialystock.