Transforming a School Hall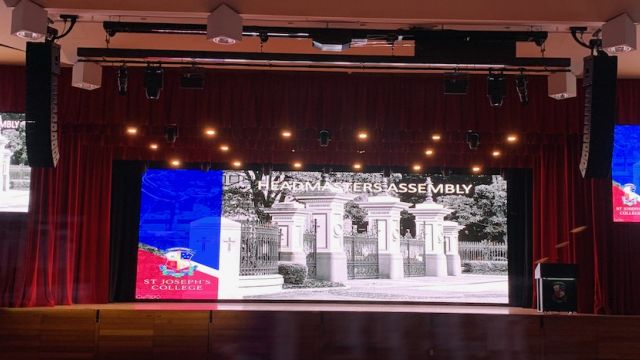 Trent Pickles from the LifeLike Group explains how his company transformed a tired school hall into a state-of-the-art AV facility that springs to life at the push of one button.
St Joseph's College in the Sydney suburb of Hunters Hill came to us to upgrade their school hall that was, in a word, abominable.
The facility was straight out of the 1980s - a hodgepodge of random lights, half working sound, an old projector drumroll screen on stage, dilapidated curtains and the bio box was in a mess.
Our company works on projects that range from simple upgrades to a full-scale system overhaul.
In this case we gutted the entire hall and our team of experts came up with a solution to combine simplified, intelligent scene control, of sound, lighting and audio visual.
The space is used regularly for assemblies, rallies, exams, mass and performances.
Now the system can change-over from a simple school assembly to a full theatrical production at the touch of a button.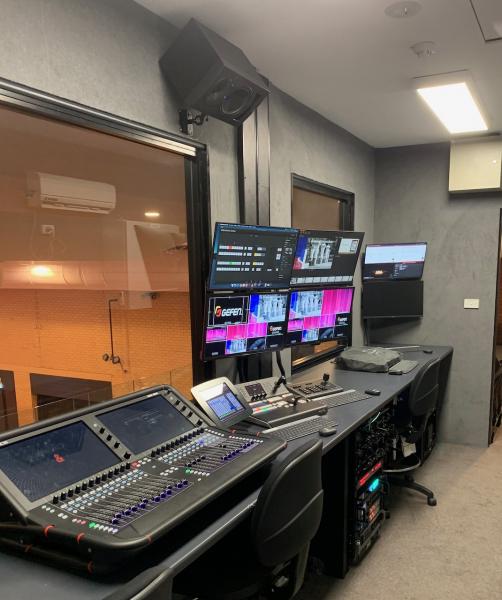 The most visually striking feature of the upgrade are the screens. On the stage is a 12.5 metre wide by 4.5 metre high LED wall, surrounded by two 4 by 2.5 metre screens.
There is a new motorised curtain rig. We reinforced the ceilings and installed five motorised lighting bars. The lighting rigs comprise 20 ETC LED lights and 18 Axcor washes and spots and the new sound system is a 24 element MARTIN line array.
In the bio box is an Allen & Heath AVANTIS Sound console, an ONYX NX1 Lighting console, and a Blackmagic DESIGN vision production suite.
There is an overarching Q-SYS control system for simplified operation by any user.
A teacher who knows nothing about tech can press one button, it will turn the lights on, turn the video walls on, open the stage curtain and get the sound ready for presentation.
Some of our clients have gone on to use the theatre control technology to integrate site-wide school paging and audio-visual distribution.
St Joseph's College is over the moon at the upgrade. It cost over a million dollars but we have also completed upgrades for other schools for less than $50,000
Our team has a wide range of solutions available, all dependent upon existing equipment, operational requirements and budget.
For more information reach out to our expert team via email info@lifelike.com.au or call
Sydney: 02 8880 6766. Newcastle: 02 4915 9615. Melbourne: 03 9118 8201.