Patch Theatre Celebrates 50 Years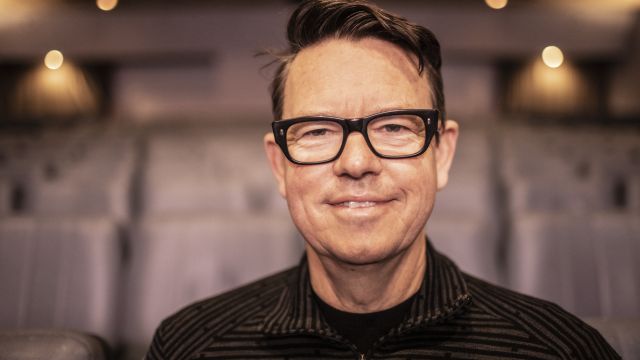 Image: Patch Artistic Director Geoff Cobham. Photographer: Darcy Grant,
Celebrating 50 years with a festival quadrella, as Patch gets back on the road in 2022!
Patch Theatre is thrilled to announce it has party hats and streamers at the ready, as it celebrates 50 years in 2022. The first announcements of the 2022 season include shows in Sydney Festival, Perth Festival, WOMADelaide and Auckland Festival as well as a season at Sydney Opera House and performances across 16 other cities and regional centres around Australia. It's time to celebrate!
The 2022 season will commence with Sea of Light at Sydney Festival in January with an audience of 12,000 expected to take part over the month-long run at the Australian National Maritime Museum. The installation will then tour to Bathurst and on to Tasmania. Sea of Light was originally designed for the inaugural Illuminate Festival at the Art Gallery South Australia to complement the exhibition Dušan and Voitre Marek: Surrealists at Sea. Each iteration of Sea of Light is reimagined to echo the collection of the host museum or gallery. It combines magical light and a gentle soundscape in an interactive installation that allows children to steer beautiful ships across a sea floor leaving glowing paths of light in their wake.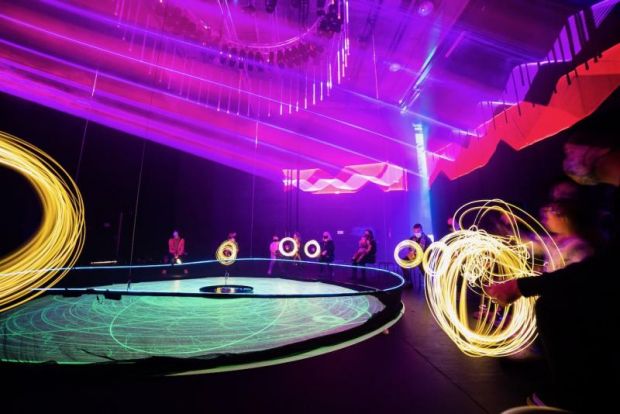 Image: The Lighthouse. Photographer: Mark Gambino.
In February The Lighthouse will journey to Perth Festival playing for six days to an audience of more than 2,500. The Lighthouse beckons young people and their adults to explore the endless wonders of light in an immersive promenade performance that is part installation, part scientific quest, part rave. A series of interconnected rooms await the audience with each experience exploring a different property of that elusive yet fundamental force of nature: light.
For four days in March, Mirror Mirror will entertain the young and young at heart at one of Australia's favourite festivals, WOMADelaide. Mirror Mirror is an outdoor interactive kaleidoscope of imaginings, set in the surrounds of a mirrored tunnel installation which is created bespoke for WOMAD, in Adelaide's Botanic Park. It will be the first time Patch Theatre has collaborated with WOMADelaide.
Patch Theatre favourite ZOOOM will play at Sydney Festival before heading across the ditch to New Zealand where it will stage six performances as part of Auckland Festival in March. ZOOOM is the story of a child who begins a transformational journey and discovers both light and dark can be a magical place. The performance will also tour across three states of Australia from August to November, including 20 performances at the Sydney Opera House.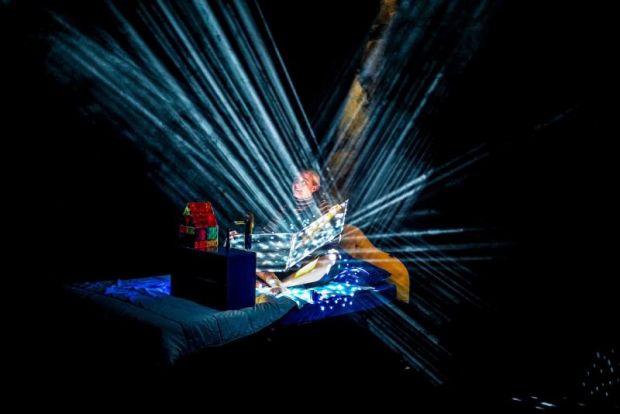 Image: ZOOOM. Photographer: Matt Byrne.
Artistic Director Geoff Cobham said: "What a way to celebrate turning 50! It's fantastic to be looking ahead to next year with a schedule that sees us back touring across South Australia, New South Wales, Tasmania, Western Australia and New Zealand. To be playing at four exceptional festivals, to bring our work back into the world and watch the faces of our audience members as they explore the wonder of light and experience the return of live performance, is as good as it gets. I feel incredibly grateful that together with the team at Patch, we have the privilege of steering this extraordinary theatre company into its 50th year and invite everyone to come help us celebrate."
Further announcements of the 2022 season will be made in coming months.
"A voyage of surprise and wonderment...applause all round" - The Barefoot Review (Sea of Light)
"…to leave one breathless, not only with admiration, but also anticipation for what they might have up their sleeves next!"- Stage Whispers (ZOOOM)
"A simply stunning, interactive promenade performance." - ArtsHub (The Lighthouse)
"At the conclusion of The Lighthouse performance my 16 year old grandson commented: 'Today all my dreams came true!'". What a review!" - Review from a Grandparent
"In a world where children are being bombarded by all sorts of stress it was lovely to take them to a wonderland of enlightenment (literally) for 60 minutes. Congratulations Patch Theatre - mission accomplished!" - Stage Whispers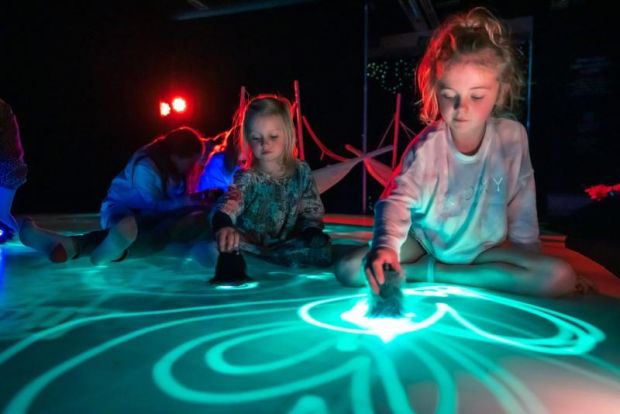 Image: Sea of Light. Photographer: Matt Byrne.
Patch Theatre has been making professional theatre for 4–10 year old children and their families from its home in South Australia since 1972, producing 112 unique works and performing to 2 million children around the world.
Tour Dates:
Sea of Light
26 Dec – 30 Jan, Sydney Festival, National Maritime Museum, NSW
19-27 Feb, Bathurst Memorial Entertainment Centre, NSW
5-8 Oct, Lift Off! Festival, Tasmanian Museum Art Gallery, TAS
ZOOOM
20–22 Jan, Sydney Festival, Riverside Theatres Parramatta, NSW
24–27 Mar, Auckland Arts Festival, NZ
24 Sep – 5 Oct, Sydney Opera House, NSW
The Lighthouse
15–20 Feb, Perth Festival, University Theatres WA
Mirror Mirror
11–14 Mar, WOMADelaide, SA