2014 Sally Burton Awards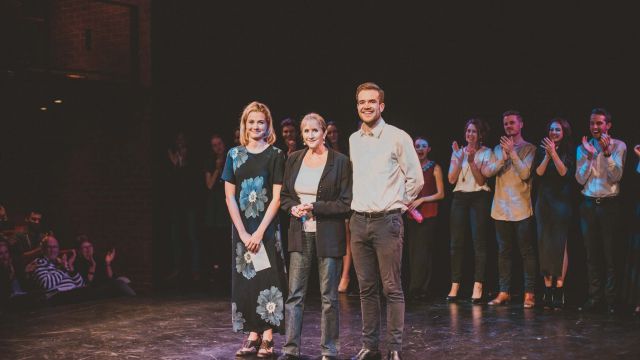 Third Year WAAPA Acting students Jonny Hawkins and Felicity McKay won the 2014 Sally Burton Awards for best male and female performances on Tuesday night, May 27, in the Roundhouse Theatre at Edith Cowan University.
Nurturing young artistic talent has long been a passion for Sally Burton, the widow of the great Welsh actor Richard Burton. "I think I have quite a nurturing instinct, possibly because I don't have children. I just love helping young people at the beginning of their career," she has said.
A shining example of Burton's philanthropy towards the arts is the annual Sally Burton Awards. All students in 3rd Year Acting at the Western Australian Academy of Performing Arts are invited to perform for the annual prizes – one for a male, one for a female – worth $2,000 each.
The students are required to perform a Shakespearean text monologue or duologue. The judging is based on the ability to speak the verse, connect to the text, interpret the content and present the finished work.
In addition to Sally Burton, this year's judging panel included actor James Hagan and actor/director Will O'Mahoney.
Sally Burton sees it as fitting those funds from her husband's estate – the philanthropic money comes mainly from Richard Burton's film royalties – are being used to support aspiring actors.
"It's been an absolute pleasure to be able to provide this prize for the last seven years. They joy on the winners faces and their gratitude makes it all worthwhile."
With many of the past recipients of the Sally Burton Award doing big things in the film, television and theatre industries, Sally thinks that the annual competition is a good barometer for WAAPA's stars of tomorrow.
"2008 winner, James McKay, went on to pick up the prestigious Heath Ledger Scholarship last year, 2011 winner, Abby Earl went straight into the hit TV series A Place To Call Home, Claire Lovering, Matthew Levett, Lizzie Schebesta and most of the the previous winners are all enjoying lots of stage, film and TV work. It's enormously fulfilling to see these graduates go on to realise their dreams."
Burton himself was the son of a poor coalminer when he met school teacher Philip Burton, who informally adopted and educated him. "Richard was so grateful to Philip Burton for helping him that it's right that the money should go to helping young people."
WAAPA is extremely grateful for the generosity of Sally Burton in making these awards available to honour the work of her late husband.
Image: Sally Burton with Jonny Hawkins and Felicity McKay in the Roundhouse Theatre. Photo courtesy of James Killian.