AIM: Music Theatre Students Go Animal
The Music Theatre Department at the Australian Institute of Music (AIM) in Sydney is a vibrant, noisy, energetic and exciting collective of talented students, committed to understanding theatre. Students are skilled in the four disciplines of singing, dancing, acting and creating, making students what AIM calls - the Quadruple Threat.
Music Theatre students are constantly performing - in class, concerts, recordings or musical productions. Recently, around 20 students stepped into a local studio to record as a choir ensemble for the Animals Australia campaign. The students sang the song Somewhere from West Side Story for an animated video in protest against the inhumane slaughter of farmyard animals.
The Musical Director of the campaign, Russell Finch, worked closely with these students. "I was really impressed with the way the students and Jennifer Murphy, as head of Music Theatre at AIM, approached the whole project.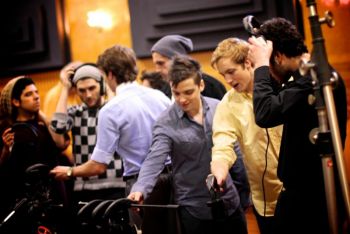 He continues, "At the rehearsal they were given reasonably complex SATB parts and with their sight singing skills, this was quickly mastered."
Jessica Robertson was one of the students who involved. "It was wonderful working outside AIM as it allowed us to use the tools we have been given by our teachers," Jessica says. "It allowed us to see and experience what it was like in the industry."
As it was only a small ensemble, the students were required to record their voices in different positions to give a sense of greater numbers. The studio session was a lengthy process as the students had to find the right sound for the animation, constantly changing timbre and tone.
Jessica says, "It was so exciting hearing our final draft of the recording with the image on screen. It gave us joy to be helping in such an amazing project."
Her strong passion for Music Theatre is celebrated at AIM. "It allows me to do all the things I love: sing, dance and act! Choosing AIM was really easy as we are given the opportunity to be taught by industry teachers and learn how to perfect our craft! AIM gives me the experience I need for the industry."
Gavin Brightwell was also a voice in the choir. He notes the similarities between working in AIM classrooms and Studios 301. "We all work together to get the best sound possible and blend perfectly. Knowing each other's vocal strengths and weaknesses, we were able to achieve the task at hand and nail the recording."
Like Jessica, Gavin embraces an affinity to Music Theatre: "As time passes you feel attached to it and there is nothing you can do to lose this attachment. I wasn't sure what to do after school so I started a B.A. and after a semester I was bored and wanted to pursue the one career at present that I understand and keeps me happy."
With purpose built facilities, a diverse student body and professional staff and industry connections, AIM students receive the best possible education in Music Theatre. Jennifer Murphy, Head of the department says, "Our students represent a vibrant and exciting collective of the industry's next wave of talent."