The Con Family Thrives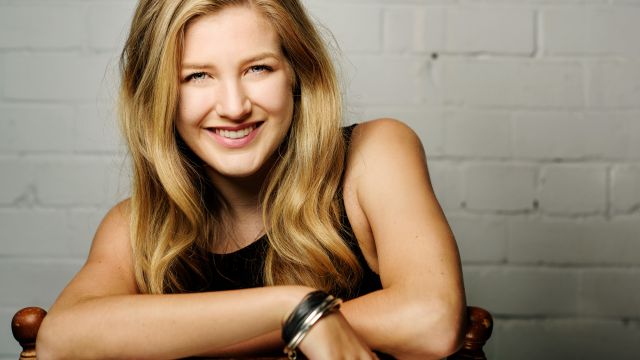 The Queensland Conservatorium is producing dynamic performers, with musical theatre graduates starring in some of the biggest shows to hit Australia.
Emerging stars are delivering stellar performances in blockbuster productions like Evita, West Side Story, Aladdin, The Book of Mormon, Charlie and the Chocolate Factory and Harry Potter and the Cursed Child.
Georgina Hopson, who graduated from the Bachelor of Musical Theatre in 2014, starred in Evita alongside Tina Arena.
"There is a real sense of camaraderie," she said.
"Even after university, the Con family is still alive and well.
"The Bachelor of Musical Theatre at Griffith has really established a reputation in the industry for quality, so it's great to see that being recognised."
Since graduating Georgie has become one of the breakout stars on the Australian musical theatre scene – handpicked by Dame Julie Andrews to understudy the lead role in Opera Australia's My Fair Lady, she received a Matilda Theatre Award for Best Emerging Artist and won the prestigious Rob Guest Endowment last year.
Fellow musical theatre graduates Alex Woodward (2015), Tom Davis and Billy Bourchier (2014) are currently touring with The Book of Mormon.
Tom Davis has been crisscrossing the country with the show for two years.
"This is my first major musical, and it's still such a thrill and the audiences love the show. It's so funny and brilliantly written."
Tom is originally from Narrandera in regional NSW and moved up to Brisbane after high school to attend the Queensland Conservatorium.
"I started singing at a very young age – I used to dance around with a spoon in my hand as a microphone!"
"I didn't apply anywhere else – I just went for it, there was no Plan B.
"The support from the teachers was amazing – from developing accents, to building a character, audition experience and choosing repertoire."
Other graduates are currently appearing in Charlie and the Chocolate Factory (Jordan Malone, Madison Green) and Harry Potter and the Cursed Child (Connor Sweeney) and Aladdin (Shubshri Kandiah and Courtney Monsma).
Queensland Conservatorium Director Professor Scott Harrison said:
"The success of our alumni reflects the calibre of teaching and learning happening at the Conservatorium – our students are given a world-class music education and are ready to make their mark when they graduate."
As part of its 2019 performance season, the Conservatorium will mount a blockbuster production of Les Misérables. The show features a cast of 80 students, two orchestras and more than 300 costumes over 12 epic performances.
Head of Performing Arts Associate Professor Paul Sabey said students were being given the chance to tackle some of the most iconic shows in the musical theatre canon.
"These mainstage productions are one of many opportunities provided to students throughout their degree.
"It's vital they leave us with the skill set that will enable them to tackle any role, on any stage," he said.
The Conservatorium is also home to a Bachelor of Acting, which launched in 2018. The acting program prepares graduates for a career on the stage and screen under the direction of internationally renowned teachers and performers.
Associate Professor Paul Sabey said both courses offered a pathway to a career in the industry for aspiring performers.
"Our goal is to ensure that talented performers are equipped with the passion, drive and skills to perform across a range of disciplines, from theatre to film and TV."
https://www.griffith.edu.au/music
Image: Georgina Hopson
Check out Performing Arts Courses across the country in our 2020 Course Guide