A Day in the Life at Charles Sturt Uni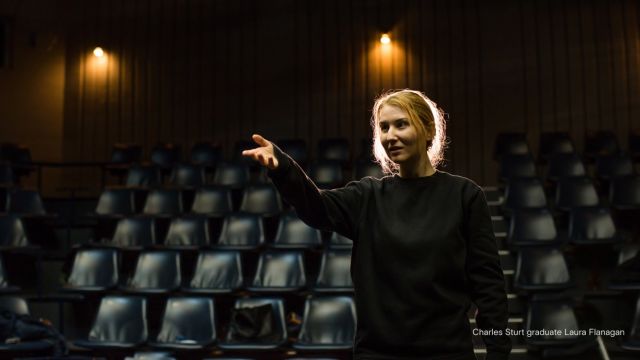 Do you dream about the day you get the call to star in the next big Netflix series or would working behind the scenes on movies and TV shows give you a buzz? Maybe you've got plans to make it big on Broadway?
You'll need the right training and that's where Charles Sturt University comes in. The Bachelor of Creative Industries (Acting and Performance Design) or Bachelor of Theatre Media will kick start your creative career.
At Charles Sturt you learn the ins and outs of the industry and get to dream up exciting ways to bring stories to life. The acting and performance degree will help you reach your full potential with your passion for drama, acting or working in event management, lighting, costumes and props. You'll also complete placements with theatre companies and media production houses, or with film, radio, television or event production companies.
But what's life like as a theatre media student? Student Sonia Dodd provides an insight.
8am
I go for a run around Kanga Track, just behind the campus at Bathurst, and get a good dose of the country air.
10am
After eating breakfast in my dorm kitchen, I meet some friends for a quick coffee before walking to class. Today, my theatre media classmates and I are planning our upcoming performance at the Ponton Theatre. As the set designer, I discuss the performance with the directors and brainstorm ideas with the rest of the design and production team. Before class ends, we have a group discussion about our e-portfolios due at the end of the year.
12pm
Class has finished, so I head to the Food Bowl for lunch, where I bump into some of my 'dormies'. It's sunny outside, so we decide to enjoy our meals on the library lawn where there's live music.
1pm
I have a short break after lunch, so I head to the library to look over a play I'm giving a presentation on next week.
2pm
I have a meeting with my friend for a group assessment for my elective radio subject. We plan and draft some segment scripts for our radio show task – and even have time to jump into the recording booth to record some intros. Afterwards I head back to my dorm on campus and squeeze in a quick power nap!
4pm
I head to a rehearsal. The third-year theatre media students showcase original works at the annual Sprung Festival of Creativity, using other Charles Sturt theatre media students as their cast and crew. I'm playing the lead role in an original musical, which is a lot of fun but it's also a huge commitment. We have frequent rehearsals in the theatre media building.
7pm
I'm sweaty, sore and energised after our three-hour rehearsal. I swing by the dining hall for dinner, then head over to my dorm to relax. A few of us have a free evening after a busy day, so we relax on the balcony, then play cards in the common room while watching TV.
9pm
I do a bit of reading and researching for an upcoming assessment at my desk. Before getting ready for bed, I share a tea with one of my dormies who is having a study break. I'm looking forward to a sleep-in and another productive, creative and exciting day!
---
Turn your passion into a profession at Charles Sturt University.
Find out more and register for an audition - Click here
Check out Performing Arts Courses across the country in our 2020 Course Guide