Federation Music Theatre Across Two Cities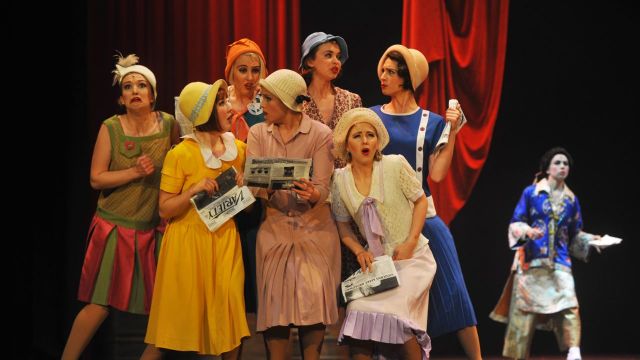 Federation University became Australia's first two city Music Theatre degree in 2015.
The first group of students trod the boards in Sydney, supplementing its long standing course at the Ballarat Arts Academy.
Under the academic leadership of director/choreographer David Wynen, Federation Uni is bouncing into 2015 with its offerings in Music Theatre.
A highlight will be a full scale production of Thoroughly Modern Millie in the historic Her Majesty's Theatre Ballarat, followed by The Mystery of Edwin Drood andThe Pajama Game with 2ndyear students.
"I am so proud of what we have achieved at Federation's Music Theatre Course.So many of our graduates are carrying the torch in so many exciting ways. Not only are we producing challenging and wonderful work in Ballarat, we are also so excited about making a real impact in the theatrical hub of Sydney,"said David Wynen.
This year's graduating Ballarat cohort will Showcase in Sydney for the first time in November. They also worked with Fed Uni Music Theatre Patron and icon Miss Nancye Hayes O.A.M./ AM to put together a true Australian Music Theatre presentation for the International Music Theatre Educator's Alliance Conference at WAAPA in June.
Their presentation included excerpts of two Australian musicals set in Ballarat: Eureka and Lola Montez.
"Working under pressure sometimes seems to bring out the best in us. And the support and enthusiasm brought to the rehearsal room by the 3rdyear course graduates of the Bachelor of Arts Music Theatre degree course confirmed to me why I love being a part of the creative process of 'putting on a show',"said Nancye Hayes."Especially when I can pass on the history of our profession. I know music theatre future is in safe hands and hearts and most importantly talent, which I have experienced with this group of students."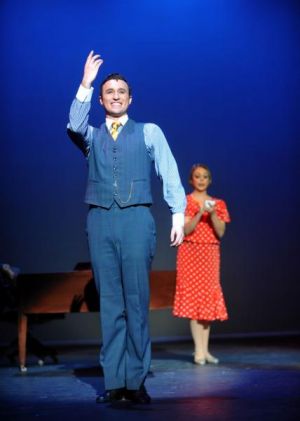 The course is known for its bold, vibrant and innovative place in the industry. Wynen in forging ahead with a bold reinvention and this is clearly evident by graduates gracing the insides of so many theatrical programsand the dramatic increase in applicants.
The Ballarat Arts Academy course has produced many graduates working in major musicals across the country and internationally. Graduates have worked on Strictly Ballroom, Cirque De Soleil, King Kong, Mama Mia, Cats, Les Miserables, Hairspray, Jersey Boys, Mary Poppins, and Wicked to name a few. High profile graduates of the course include: Chris Durling, Cristina D'Agostino, Josh Piterman, Joel Parnis, Jaz Flowers, James Smith, Jared Newall and Graeme Foote.
A new chapter will open in 2016 when the inauguralseason of works from Sydney students in second year commences.
"Your students were brilliant and so present and connected! I was truly impressed with the work you have done there! Every single student that performed was grounded... with a clear story and so prepared."– Faith Prince (Tony Award winning performer).
"I'm so impressed at the changes you've made to the Music Theatre program, and am delighted to see it flourishing under your leadership." -Kim Smith (New York Cabaret artist - MAC award winner).
Images: Thoroughly Modern Millie
More Reading - Stage Whispers 2016 Guide to Performing Arts Courses