Federation University's Arts Academy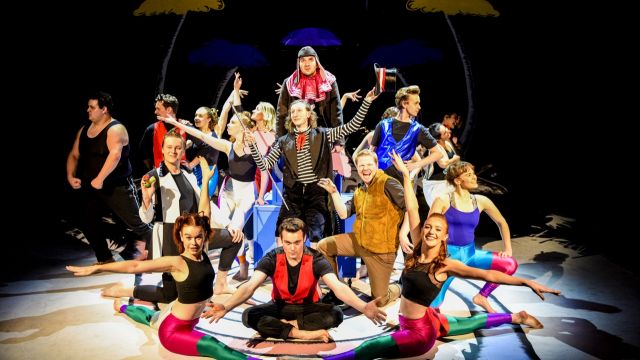 The Arts Academy, Federation University resides in the heart of Ballarat. In rehearsal rooms that look out over trees bursting with autumn, students throw themselves into acting exercises. Weeks earlier these students were performing the musical Working to sell-out audiences, a month before that Oscar Wilde and Bertolt Brecht were brought to life, a month later the musical Seussical.
"It's pretty simple. If it wasn't for my time at the Arts Academy, the detail of the teaching methods and the work ethic it instilled in me, I wouldn't be enjoying the career I've had over the past 12 years." - Josh Piterman, former student, award-winning music theatre performer and recording artist
The Arts Academy is unique. A regional campus dedicated to performing arts excellence. Like Ballarat itself, it is a hub of tradition and innovation, skill and rebellion. Here, Romeo and Juliet are as relevant as Heathers the Musical. Singing, acting, dance, art, design and theatre-making co-exist in a vibrant community of young artists who live and learn together.
"There tends to be a sense of community, especially when the majority of the students are not from the surrounding towns. Everyone gets to know each other on a more personal level and it makes working together much easier." - Iopu Auva'a, former student, currently in Harry Potter and the Cursed Child
It is this ability to embrace the past, present and future that makes the Arts Academy a leader in presenting new Australian work. From The Hatpin to Sovereign Wife with Sisters Grimm, from the work of Anthony Crowley and Eddie Perfect, to Shane Warne the Musical and Ladies In Black, Academy students sharpen their skills and develop professional relationships by nurturing our own theatre industry.
"It was a thrill to work with the intelligent, motivated and talented music theatre students at Federation University. Developing a new work is a tricky thing, and the Arts Academy students made our work all the better for it with their enthusiasm, wit and diligence. Federation University's high-performance standard, mixing an emphasis on autonomy and proactive attitudes, is perfect training for students hoping to work and survive as artists in Australia." – Ash Flanders, former Acting student and co-artistic director of Sisters Grimm
At the Arts Academy, students are taught the skills they need to establish a sustainable and diverse career in the performing arts. It values a community of artists, emerging and established, who use their art to contribute to a sustainable, ethical world, full of powerful and innovative story-telling. If you are interested in becoming a part of that learning community, visit www.federation.edu.au/artists for full details.
Image: Seussical. Photographer: Jodie Hutchinson.
Check out Performing Arts Courses across the country in our 2020 Course Guide