Life Is A Cabaret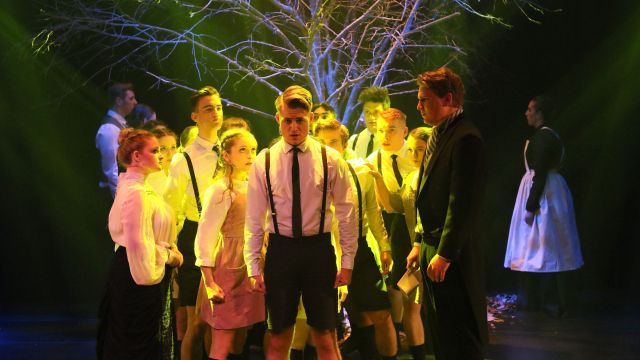 The 2021 Bachelor of Music Theatre students at the University of Adelaide are relishing being back on campus doing what they do best: performing to live audiences.
Making the most of the on-campus University of Adelaide facilities, Director of Music Theatre George Torbay has made North Terrace's Scott Theatre home, and recently celebrated with its first full graduating class production.
A sold-out season of Cabaret enjoyed standing ovations, as it took audiences on a seductive yet heart-warming ride through Berlin's Kit Kat Klub circa 1929-1930. Performances left an enduring impression, not just on audiences, but on the artists too.
Playing the double-cast role of Sally Bowles, Sally Ostrowski reflected: "I think it's so important to be seeing shows like Cabaret in our current social and political climate. History is constantly repeating itself, and the show makes such a well-crafted comment on the patterns that are always emerging in our world."
Also cast as Sally Bowles, Amy Roff observed: "I think that my character Sally represents a part of our society that remains ignorant to important social issues, which is by choice. Having the world at our fingertips has allowed us to cherry pick the information and news we educate ourselves with.
"For Sally ignorance is bliss, which I think many young people our age can relate to as many choose to distract themselves while ignoring the real, ongoing issues in the world.
"This has been an experience I will never forget."
Cabaret was directed by Erin James, a graduate of WAAPA, whose professional directorial debut came in 2018 with She Loves Me at Hayes Theatre Co.
The next production for the team will be Mamma Mia! with Zoë Komazec directing and choreographing. Zoë's well-placed to run the show, having recently featured in the Australian tour.
The final show for 2021 will be Urinetown, directed by the Head of Music Theatre, George Torbay. The beguilingly titled show is a musical satire of the legal system, capitalism, social and environmental irresponsibility, populism, bureaucracy, corporate mismanagement, municipal politics and musical theatre itself.
Urinetown, featuring the second-year students, will be choreographed by Alexander Kermond (Zan), who has been dancing since he learned to walk and has performed in many productions across theatre and television.
George Torbay and his team give artists a complete music theatre experience, so they graduate equipped to realise a career as a performer and in the broader world of theatrical arts and theatre making.
The University of Adelaide is interested in the complete, unique and passionate performer who is at home on the main-stage, commanding in the marvellous cabaret world, and ready to tackle the myriad of theatre-related tasks open to the talented and committed professional. Register for your place in this unique program.
Audition Rounds for 2022
Adelaide: Thursday 30 September and Friday 1 October
Perth: Friday 22 October and Saturday 23 October
Brisbane: Thursday 4 November
Sydney: Saturday 6 November
Melbourne: Saturday 13 November
Adelaide: Thursday 25 November and Friday 26 November
Learn more and register at:
arts.adelaide.edu.au/study-with-us/undergraduate/music-theatre
Click here to read about Performing Arts Courses across Australia and New Zealand in 2022 in our Performing Arts Course Guide.